If you are passionate about sewing and looking to take your creativity to the next level, you need to invest in a self threading Serger sewing machine.
It doesn't matter whether you are experienced in operating one, as long as you buy the right model.
Luckily, various serger sewing machines are available on the market that suits both beginners and experienced users.
Each of the available models offers users unique features that help add creative and decorative finishes to all your sewing and crafting projects.
Most self-threading serger sewing machines are expensive, but few go at affordable prices and save you time, unlike if you were using a basic serger.
Convenience isn't the only advantage of a self-threading sewing machine.
The machines are well-known for producing smooth and even stitches, making them the ideal option when making professional finishes on hand made garments, sewing, and craft projects.
These machines are also capable of handling a wide range of fabrics, including natural materials like leather.
When looking to buy a self threading sewing machine, you should consider buying one of the following auto threading models as they are highly recommended based on functionality and customer reviews.
Our Picks
#1. The Editor's Choice: Janome MyLock 634D Serger with Self Threading Lower Looper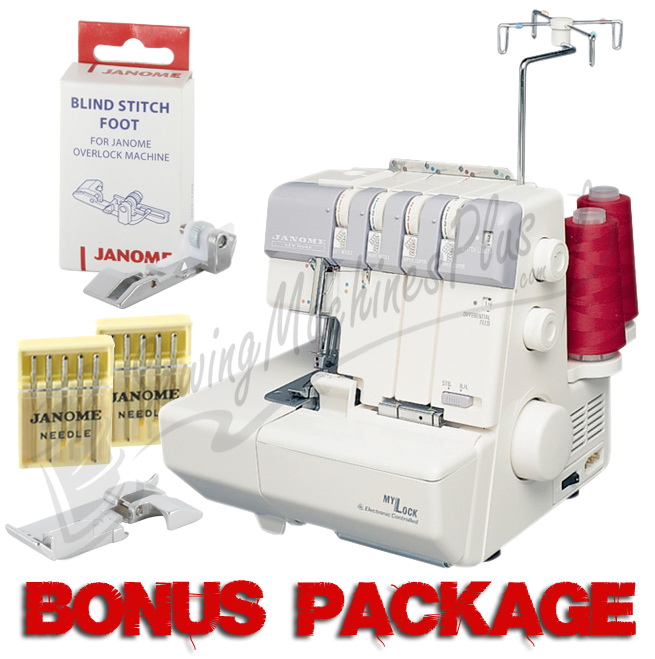 Features
Choose from 3 different sizes: Medium 17″ x 23″, Large 18″ x 33″, and XL 22″ X 39″
The sewing mat is 1/4″ thick.
Reduces vibration in your machine
It helps reduce noise from your machine.
It prevents scratches to the surface it is on.
Wipe down with a damp cloth to clean
Self-threading
The Janome MyLock 634D self threading sewing machine is much loved among sewers due to its automatic threading lower looper and being the quietest model available.
It is also fast, and therefore buyers should not expect it to be pin-drop silent.
However, you can be sewing with it in the corner of the room and not disturb someone watching TV in the same room.
Yes, it is that quiet.
The model is a 2, 3, or 4 thread unit that comes with a lay-in thread tension dial and charts that make it a great automatic threading serger to have by your side for a lifetime.
It is beginner-friendly due to the color-coded thread guides and the easy lower loop automatic threading system.
What this means is that you do not have to be an expert to use it.
You can quickly switch to the rolled hem option without having to change the needle plate.
This ability to produce a rolled hem and other tasks using the same plate makes it versatile, and it can be used to complete various sewing jobs in a short time.
With its capacity to produce 1300 stitches per minute and its snap-on pressure feet and adjustable foot pressure, users control the speed.
Buyers recommend this model due to its performance, efficiency, and the bonus kit offered at no extra cost.
The bonus kit comprises beading attachments, 3 packs of needles, size 14, a blind stitch foot, and 1/8 inch piping foot.
The Janome's design is sturdy, though a bit heavy.
The rectangular design increases the machine's sturdiness so that it doesn't while it stitches.
PROS:
Sturdy construction
Lots of advanced features
Self threading
Beginner-friendly
CONS:
#2. Honorary Mention: Juki Pearl Line MO-654DE Self Threading Serger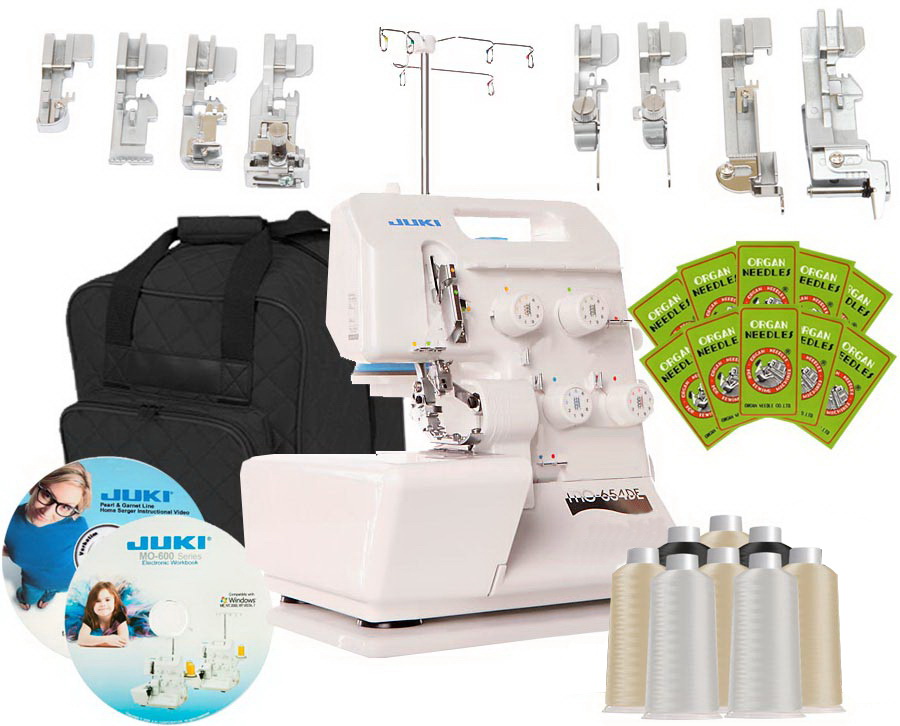 Features
Snap-on presser feet
Color-coded thread paths
Disengaging loopers for fast, easy threading
Built-in rolled hem function
2/3/4 thread options
Industrial tension system
Industrial cutting system
Sewing gauge built-in for accurate seams
Fast 2 thread conversion
Differential feed
Micro safety switch
When looking for a highly portable auto threading serger, you should go for the Juki Pearl Line MO-654DE Thread Serger as it's the most lightweight of all the models.
It weighs 7 pounds, and it's a premium model, as it offers various sewing and automatic threading options and adjustable stitch length, offering users the ability to make personalized choices.
With these configurations and the automatic rolled hem, it's impossible not to like this product.
The first feature there is to like about this machine is the powerful knife in place.
The term "powerful knife" sounds dangerous, but it's far from it.
The knife is only meant to make cutting easy and faster.
There are no possibilities of the knife causing any harm as various safety measures are put in place.
Additionally, this serger also offers an incredibly high stitching speed.
The rate of 1500 stitches per minute is unique and makes stitching fast and quicker to finish.
Most users claim it takes about 3 minutes to finish sewing fabric at 1500 stitches per minute.
However, the time may vary depending on the fabric design and the speed of the user.
Portability is another amazing feature there is to like about this product.
The weight is 7 pounds, making it easy to carry around.
Apart from portability, the dimensions (10.6 x 13.6 x 11.6 inches) make it easy to grab and hold onto it when using or carrying it around.
With these dimensions, storing the product in a cupboard is easy. It is reliable and won't fail as it always produces standard threads and stitches, which are one of a kind.
The model is also easy to use, making it ideal for beginners.
PROS:
1500 stitches per minute
Lightweight – easy to store and move
Powerful knife for making cuts
CONS:
Limited accessories compared to previous models
#3. Baby Lock Vibrant Serger Machine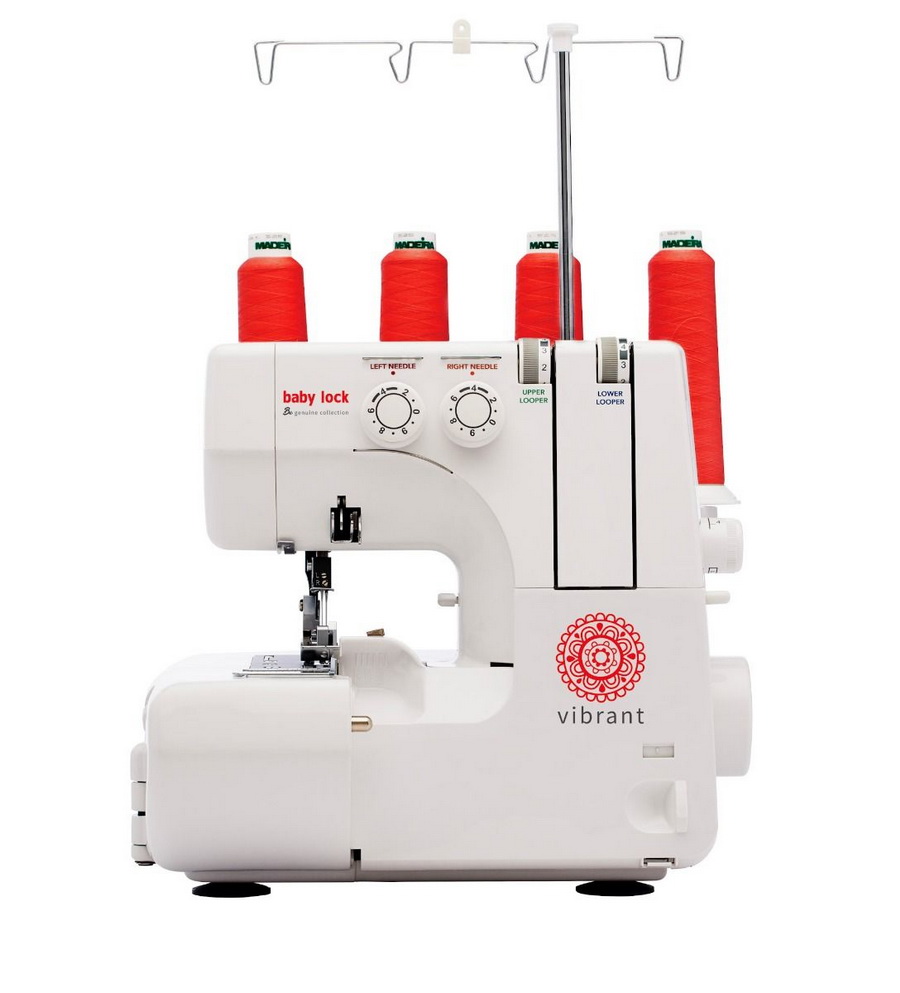 Features
4/3/2-thread serging
4-thread seaming
3-thread narrow or wide overlock
Narrow rolled hem
Flatlock
Blind hem
Easy color-coded threading
Lay-in thread tension system for loopers
Differential feed ratio of 0.7 – 2.0
Electronic foot control
Snap-on, multi-purpose presser foot
Telescoping thread antennae
Lint tray
Built-in LED light
Built-in seam guide
The Baby Lock Vibrant Serger is the ideal for someone beginning serging.
This model guides users toward improving their sewing skills for a better future.
It's a perfect introductory tool for the art and craft of serging, especially if you desire to end up with professionally finished garments.
Vibrant serging using this model is not scary but rather exciting.
This model is designed for 4/3/3-thread serging, making it easy to finish all your projects with quality and versatility.
Users can easily switch from 4-thread, 30-thread, 2-thread, and rolled hem stitching easily for a different and stylish finish.
The machine also has a retractable thread cutter with a push lever.
With this feature, there is no need to fumble with scissors every time you are sewing.
The thread cutter pops up with a single push of a button as you work.
As mentioned above, this serger model is ideal for beginners due to its easy color-coded threading.
Beginners can do serger threading in no time as the vibrant color-coded system offers all the guidance they need.
The Baby Lock Vibrant Serger also has lay-in tensions.
The vibrant adjustable tension setting ensures you receive a balanced stitch length every time you sit to serge.
This is an outstanding feature available in the Baby Lock series only.
Upon purchase, you also get a trim bin.
The bin helps catch threads and scraps right as they fall, leaving your working space clean and clear.
PROS:
Lightweight
Lay-in thread tension
Differential feed ratio
CONS:
Slow stitches per minute compared to other machines
Pricy
Buying Guide
Here is how we chose our top selection of sergers.
Brand
Various brands make excellent sewing machines, and some have been doing well for decades.
However, our selection would not be complete without brands like Janome and Baby Lock.
These are the top brands there are, but with the industry's expansion, there are other emerging brands worth looking at, which will be in our next comprehensive review.
Air thread serger price
When considering the price, buyers need to understand that the most expensive model is not necessarily the top pick. A purchase decision should be based on features.
However, in our selection, the price was a major consideration as we want buyers to get value for their money.
Each of the three products is correctly priced based on its features and performance.
Easiest
Our top selection was also based on customer reviews.
We took the time to read what people had to say about serger machines and there we little to no complaints about the machines mentioned.
Customer reviews gave us an insight into what to expect from each model before trying it. By the way, read our cover stitch machine reviews to find more about sewing machines.
They also provided a means to eliminate all the less favorable options.
Features To Look For When Choosing an air threading serger.
Before you go ahead and choose a serger, it would be best to consider the following features.
Number of threads  
When looking to buy a home serger, you should choose one with 2, 3, 4, or 5-thread options.
We highly advise buyers to choose a model with at least four threads for the best results.
Below is a breakdown of what you can do depending on the number of threads available:
2 threads – overlocking and finishing seams on sheer and lightweight fabrics
3 threads – ideal for finishing and overlocking medium weight fabrics
4 threads- great for finishing seams on heavier fabrics
5 threads – adding clover and chain stitches
Automatic vs. Manual threading sergers
It would help if you also decided whether to buy an automatic or manual model.
Your main concern should be the adjustable threading tension.
Automatic machines have great inbuilt features that make your sewing process simple and enjoyable.
They are the best as they also save considerable time.
Automatic threader serger model quality
If you choose a poorly constructed model, there is a high chance your projects will turn into a nightmare.
Such machines have needles that tend to break easily and sheer fabrics as you work.
To end up with professionally designed clothes, it's best to choose a high-quality model for guaranteed results.
Ease of set up auto threading serger Self 
Setting up a serger takes time, based on how easy or complicated it is to set up.
Bearing this in mind, you should always select a machine that is easy to set up. You do not want to spend days trying to set it up.
Automatic threading serger – FAQs
Which serger is the easiest to the thread?
The Baby Lock Vibrant Serger Machine is the easiest for threading and an ideal pick for beginners.
The machine is full of vibrant features that make sewing fun and a great experience.
What is the most popular home serger?
All the mentioned serger machines in this review are ideal for home sewing, but the Juki Pearl Line MO-654DE Thread Serger is the overall winner.
Which overlocker is the easiest to the thread?
 All overlockers from Juki and Janome are easy when it comes to threading and are easy to use.
What is the best serger on the market today?
There are various serger machines available on the market, but the best is the Janome MyLock 634D Serger.
Final thoughts
Buying a serger machine will take your skills to the next level.
Before choosing which machine to buy, make sure you check the key features such as the stitch length, rolled hem capability, and how many stitches per minute the machine can do.
If you are still having trouble deciding which machine to buy, you can go for the best there is – the Janome MyLock 634D Serger.
This Self Threading Serger is designed with functionality in mind and will serve your every need conveniently.
Alternatively, you can choose the portable and convenient Juki Pearl Line MO-654DE Thread Serger.
This machine is known for its unique features and ability to produce precise stitches fast.
For beginners looking to buy a serger, the Baby Lock Vibrant Serger Machine is the third-best machine and ideal for beginners.
The machine is packed with outstanding features that allow you to develop creative designs quickly and easily.