The best lockstitch sewing machines are popular in many clothing establishments and are ideal for large volumes of sewing work.
Clothing line brands use the lockstitch sewing machine because it has the best and very high sewing speeds and being powerful at the same time.
Several lockstitch sewing machines make it a herculean task for a novice to choose the best lockstitch sewing machine.
The best lockstitch sewing machines are ideal for both home and commercial use.
In case you are looking to buy the best lockstitch sewing machine and do not know how to go about it, read on; this article will guide you.
This article brings you the top three lockstitch sewing machines on the market and tips to help you achieve value for money in your purchase.
Our picks:
#1. Editor's Choice: Juki DNU-1541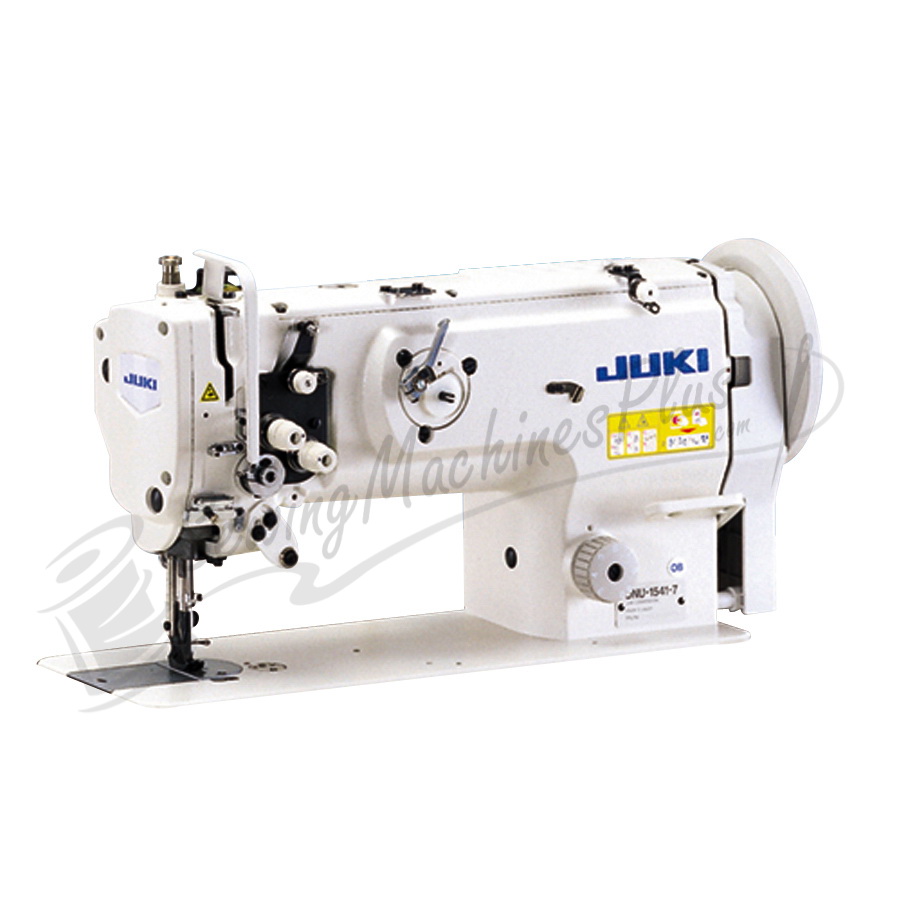 Features
Stitching speed: 3,000
Thread winder inclusion: Yes, bobbin type
Stitch dial: Yes
The mechanism for knee lifter: Yes
Large handwheel: Yes
If you are looking to achieve seam quality consistent in your fabric, this is the ideal lockstitch sewing machine for you, thanks to its reliable feed.
This lockstitch sewing machine's responsiveness is unmatched with superior stitching speed, even when lockstitch sewing on heavy fabrics or materials.
This lockstitch sewing machine has a bar stroke for large needles, which is advantageous and employs double tension.
The use of a safety clutch on the lockstitch sewing machine ensures that should there be a problem with the sewing machine like a thread stuck in the hook, the clutch engages, preventing any damage to the device.
A change in the material or fabric being worked on does not necessitate a change in its vertical movements between the presser foot and the walking foot.
Deployment of the rectangular feed mechanism in the lockstitch sewing machine ensures that the needles do not end up fraying.
The Juki DNU-1541 lockstitch sewing machine will give you consistent stitches even on multiple layers of materials while preventing stitches from gathering.
To reduce the time and spare you the agony of oiling the stitching machine, the machine has an oil wick that is centralized for efficient and effective lubrication when in use.
Furthermore, the lubricating oil will not scatter, thanks to the walking foot's inbuilt mechanism in the machine.
PROS:
Impressive sewing speed
Comes with a servo motor and an assembled table
Can work on heavy material or fabric
Ample arm space
Servo motor consumes less energy
Allows for rotation of the motor in the reverse direction
CONS:
Not portable as the machine is heavy
#2. Honorable mention: Highlead GC0318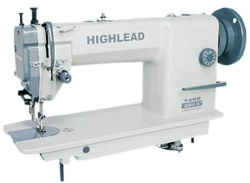 Features
Sewing speed up to 2000 rpm
Stitch length varying from 0-8mm
Teeth in three rows for the feed dog
The hook is automatically lubricated.
This lockstitch sewing machine employs a flatbed design ideal for medium to heavy fabric or materials, making it versatile.
Due to the automatic lubrication mechanism in the lockstitch sewing machine, wear and tear levels are greatly minimized, making it durable and smooth to operate, ideal for industrial sewing use.
If you are looking to sew material like tarpaulin, canvas, and leather, this is the ideal stitching machine for you due to its feed system that is bottom based and also top feed.
The Highlead sewing machine has a standard fitment of a base, and a large hook minimizes how frequently you change the bobbin.
Combining a top and bottom feed mechanism in the machine contributes to a great user experience and makes the stitches even on the fabric or surface.
With this machine's purchase, you get thick sewing needles, ranging from 110 to 130 in thickness, hence ideal for most heavy surfaces, whether for straight stitch sewing or lockstitching.
The large hook table of the machine provides ample arm space, while the servo motor that comes with the sewing machine consumes less energy.
PROS:
The build quality of the machine is robust.
The flatbed type surface offers ample arm space.
Has an efficient stitching speed
Reduced maintenance costs because of its durability
Has a reverse stitch sewing lever
CONS:
Initial set up not easy for many.
Its design makes it less portable
#3. Econosew DDL- 8700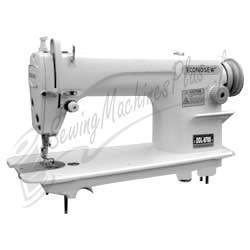 Features
Large hook
Automatic lubrication
Has a single needle
The sewing machine has a single needle with impressive sewing speeds depending on the type of material or thread fitted in the machine.
With this sewing machine, you can adjust your stitch's length from zero mm to five mm.
The machine's foot lift presser mechanism can be applied using your hand at 5.5mm or the knee at 13mm.
With automatic lubrication enabled in the machine, you do not need to worry about it breaking down due to lack of lubrication.
The automatic lubrication mechanism reduces the level of wear and tear, making it one of the affordable lockstitch machines to keep in the long run. Have a look at this article about the quilting sewing machine too!
The Econosew DDL- 8700 is ideal for light materials like jeans, shirts, and clothes.
PROS:
Impressive stitching speed
Robust build for enhanced durability
Flexibility in stitch sewing adjustment
CONS:
Not ideal for hard surfaces or fabric
Worktable not included in the standard package
Not easy to set up the machine
Buying guide
If you are considering buying a lockstitch sewing machine for home or commercial use, there are vital factors that will influence your best machine choice.
Your needs and budget will impact your choice among lockstitch machines. Click here, and let us introduce you to our top 5 best cover stitch sewing machines you can get!
You will be informed of other features to look out for in the best lockstitch machine as you read on.
Benefits of a lockstitch machine
The best lockstitch machine brings about efficiency in your work while guaranteeing the stitches' quality at the same time.
Its fast stitching speed eliminates the cumbersome and manual way of doing efficient stitches on garments and other surfaces.
Features that you need to look out for lockstitch sewing
Key features to look out for to identify the best lockstitch machine will be determined by your needs and the machine's purpose.
However, the following will assist you in making an informed purchase of a lockstitch machine.
Product warranty
Most of the best lockstitch machine manufacturers will offer a limited warranty for a product; go for a machine that is covered under an extended warranty to cushion you from repair and maintenance while the warranty is still valid. Do you know what is the best sewing machine money can buy?
 Sewing Speed
If you are buying a lockstitch machine for commercial use, it is advisable to go for the machine with the highest sewing speed to achieve efficiency in your business. Hey, take a look here and find out what's the best embroidery machines on the market!
Portability
Depending on your needs, some lockstitch machines are portable, while others are heavy and bulky.
Go for the machine that suits your individual preference.
Acquisition cost
The amount of money at your disposal will influence your choice of a lockstitch machine.
If you are on a tight budget, the Econosew DDL – 8700 is the best lockstitch machine.
If acquisition cost is not a key consideration, the Juki DNU – 1541 is ideal for you.
Frequently Asked Questions
What is a lockstitch sewing machine?
It is a sewing machine that binds pieces of cloth together using a needle and spools of thread to make strong seams.
What is a single needle lockstitch sewing machine?
This is a lockstitch machine that uses a single needle and thread to create straight seams that are strong to hold pieces of cloth or surfaces together. The machine does one task quickly and easily.
What causes a lockstitch to form?
When extra bobbins of thread and a needle are interlaced, a lockstitch is formed. The machine does this automatically at high speed.
What is the difference between lockstitch and chain stitch?
A lockstitch is made using two thread sets that involve extra bobbins and thread while a chain stitch interlopes and interlaces threads to bind them.
Additionally, the machine that does a chain stitch will consume more thread compared to a lockstitch.
Conclusion
Lockstitch sewing machines are ideal for both home and commercial use.
Getting the best lockstitch machine to suit your needs can only be achieved by following the buyer's guide to determine the suitability and which one is best for you.
The Juki DNU – 1541 will give you high-speed performance and quality work while using less energy due to the servo motor fitted n the machine.