Professional sewing for commercial purposes is now a reality for those keen on learning, thanks to advanced Juki sewing machines available on the market.
Beginners in the sewing industry have the desire to go professional, which is primarily determined by proper tools of work, in this case, sewing machines.
Manufacturers of sewing machines are in a cut-throat competition to try and maintain a large market share for their respective brands.
The infiltration of many sewing brands in the market leaves potential buyers with the difficult task of ascertaining the ideal brand for their sewing needs.
The dilemma is further compounded by advertisements of different sewing machine brands claiming their product to be the best.
Do you hate to be in such a dilemma as you plan to shop?
It is, therefore, essential that you understand the brands of sewing machines in-depth to save you from making a dubious purchase.
Your sewing needs will help determine what kind of product you should get, apart from your budget.
These reviews of the top brands that have earned their name among tailors and other professional dressmakers will help you in decision making.
Our Picks:
#1. Editor's Choice:  Juki TL-2010Q Long-Arm Quilting & Sewing Machine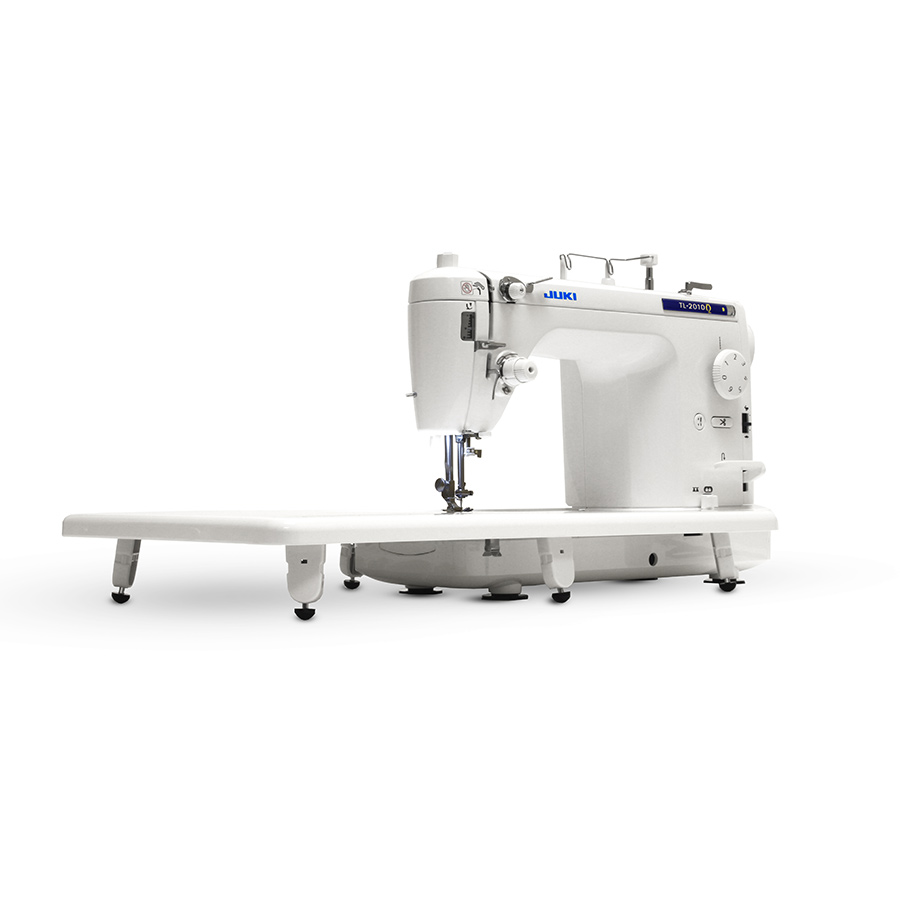 Features
Has LED lighting
User friendly in operating
5-year warranty
It has a sturdy build of cast aluminum
Foot controller: yes
This Juki model features an LED light that makes the needle area visible, allowing you to work on your sewing with ease and precision.
The foot controller allows you to automatically trim threads from the bobbin winder and the sewing needle.
The sub-tension unit on this Juki sewing machine helps you to make stitches that have a thread tension that is stable and avoid twisting sewing thread.
Fabrics that are difficult to work on like velvets and georgette feed into the Juki TL-2010Q with ease while producing beautiful seams.
Working on heavy materials is not a concern as the sewing machines Juki develops like the TL-2010Q have a mechanism for speed control, incorporating a microcomputer that determines the speed of sewing based on material type.
With a lever for knee lifting, you can adjust the presser foot with your knee, thereby allowing your hands to focus on the sewing work.
When sewing stops, the TL-2010Q stops and lowers the needle allowing you to navigate around your work as desired.
The TL-2010Q can be used for both sewing and quilting courtesy of its motion quilting design that also allows embroidery work.
There is an automatic needle threader, which helps to reduce strain on your eyes and facilitates quick sewing coupled with an easy-to-replace bobbin.
PROS:
Enhanced stitch quality
Commendable sewing speed
Can work on thick materials
Portable
Has a large working area
CONS:
Only does straight stitches which are limiting
Inconvenient foot pedal
#2. Honorable mention: Juki DDL-8700 High-Speed Single Needle Straight Lockstitch Industrial Sewing Machine with Table and Servo Motor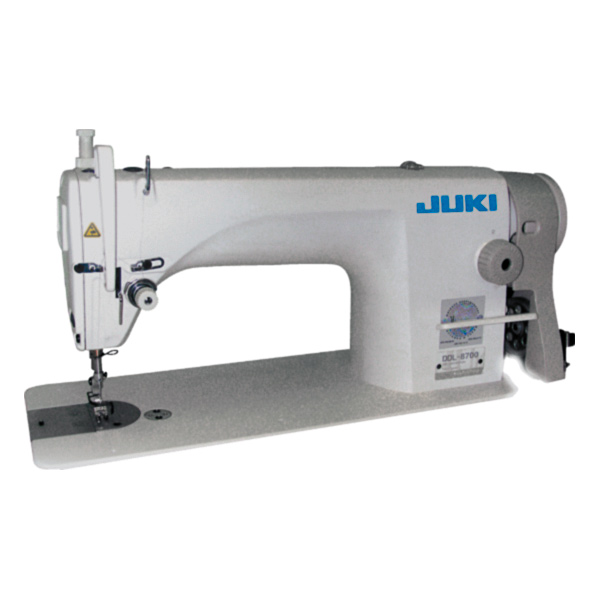 Features
Ready assembled table
Automatic lubrication
Full rotary hook
Low vibration and noise
Weight: 28 kgs
This is one of the best Juki sewing machines, as it is eco-friendly, consumes low energy; this is ideal for you as it consumes far less compared to clutch motors.
You can put the motor in reverse easily by merely flicking a switch.
With automatic lubrication, this model makes your sewing projects easy with no risk of the motor stalling due to insufficient lubrication of its parts.
It incorporates the latest design technology of 3D-CAD, which helps you to produce unique and quality designs.
It is easy to operate even for beginners and has proven to be durable over time despite prolonged use.
Maintenance costs are low thanks to its improved components like the machine head, saving you repair costs associated with frequent breakdowns.
The servo motor allows you to control the stitches per minute or sewing speed, which is an essential feature for beginners as they try and understand how best to use the machine.
This Juki sewing machine comes already assembled by the manufacturer with all the necessary accessories; all you do is start sewing.
PROS:
Good sewing speeds
Consumes less energy
Lighter than clutch motors
CONS:
Heavy and not portable
Has one needle hence limiting multiple stitches
Not ideal for heavy-duty projects like leather
#3. Juki HZL-F300 Exceed Series – Computerized Sewing Quilting Machine w/20 Bobbins and 100 Needles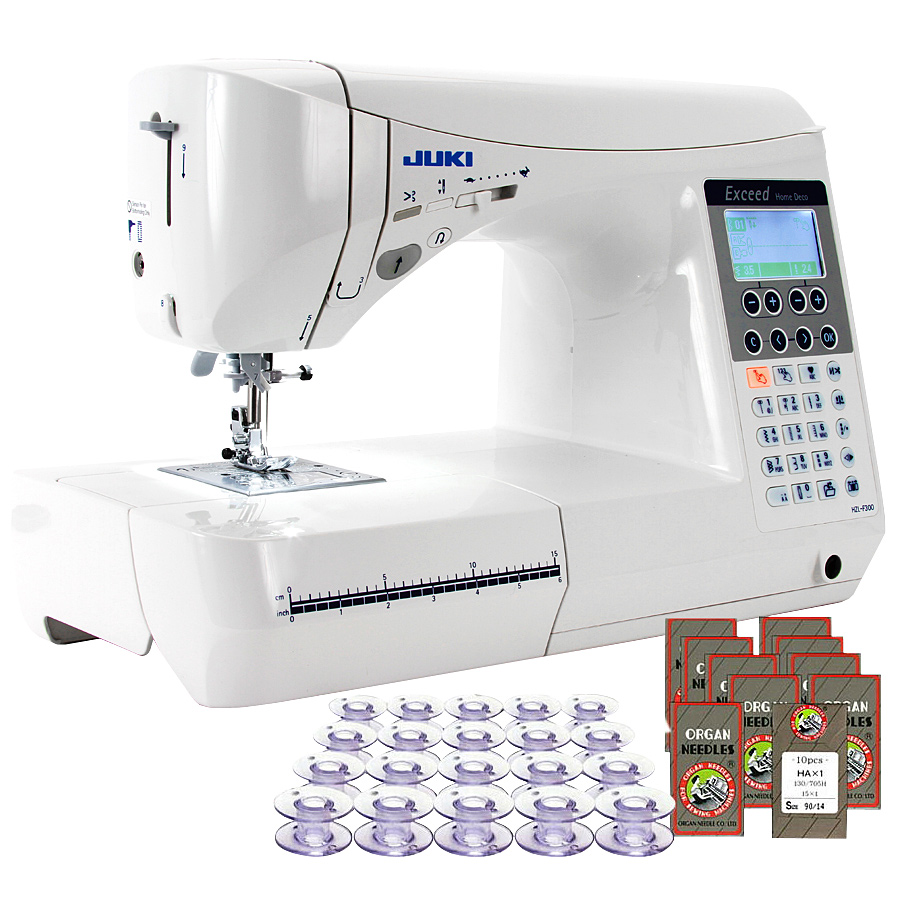 Warranty of 5 years on the product
Multipurpose for sewing and quilting
LCD: yes
LED illumination
This sewing machine comes with 20 bobbins and 100 needles as bonus items allowing you to work efficiently with multiple colors.
It is now easy to incorporate a variety of stitches and patterns in your sewing and embroidery work courtesy of the technology combined in this computerized sewing machine.
Whether you are sewing or quilting, the machine is computerized to support your work needs by achieving efficiency.
It features an LCD and LED illumination, so it is easier to select your patterns and see your working area.
It easy to thread your needle even from a sitting position since it has an automatic needle threader.
Trimming of your sewing thread is automatic with the use of a foot pedal in a heel motion or with the help of a push-button.
The feeding system of this machine is precise, combined with a mechanism of immediate needle stop in your sewing.
Due to its design, the machine does not produce noise from vibrations, which gives a great environment in which to carry out your work.
When working on buttonholes in your fabric, this machine has sixteen buttonholes that are automatic and accurately produced with the help of the electronic sensor.
PROS:
High sewing speeds
Large working surface
Automated needle threader
Accurate technology for feeding material
CONS:
Reported issues of thread trimming
Bobbin winder tends to be noisy
Knee lift can be incorporated
#4. Juki HZL-F600 Exceed Series Full Sized Computer Sewing and Quilting Machine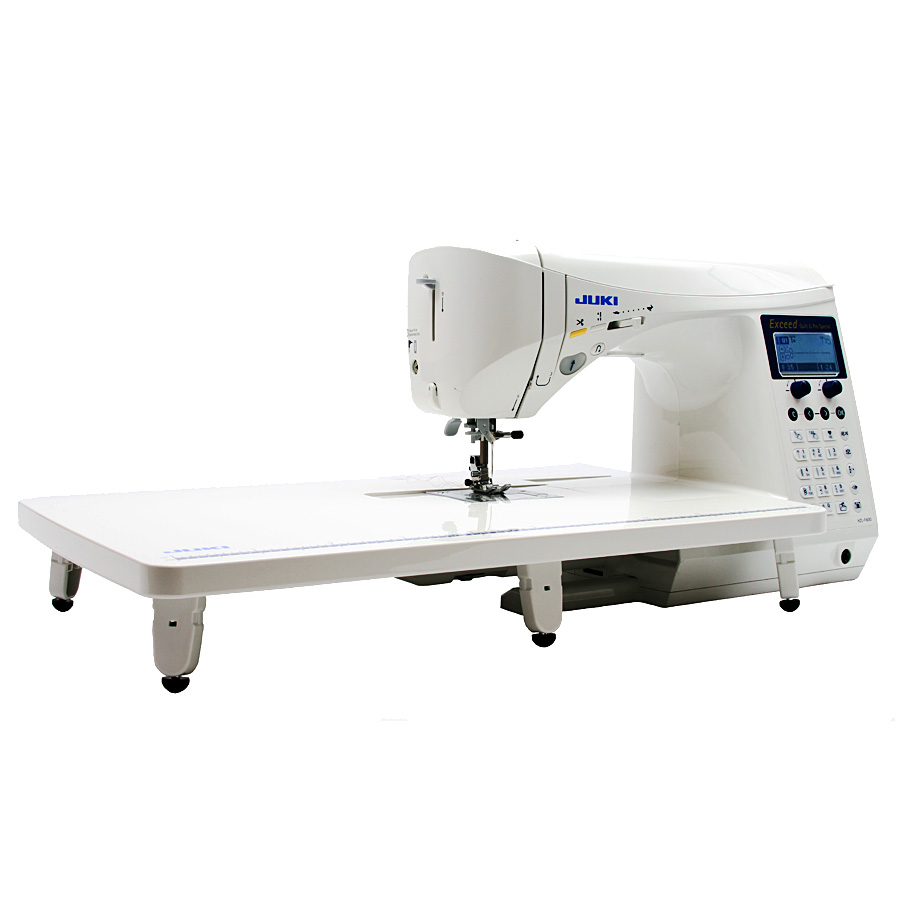 Features
Needle threading is automatic
5-year warranty on the product
Feeding technology is box-type
Dual LED
Foot control: yes
By incorporating box-type feeding technology, this Juki sewing machine ensures that the material you are working on will not move or shrink, leading to superior quality stitches.
Most Juki sewing machines work on both lightweight and thick materials with ease without shrinking them or creating loose sewing joints.
The underarm space on this Juki machine is more expansive, which gives you the flexibility to work on large materials with ease.
A variety of patterns and stitches come with the machine coupled with free-motion sewing to ensure that your decorative pieces are top-notch.
Your working area around the material can be illuminated because of the dual LED lights that are inbuilt in this Juki model.
Using a powerful feeding mechanism that is supported by a feed dog made of steel allows you to work seamlessly on projects involving heavy material like the hems of denim jeans.
Sewing good looking buttonholes (16 types that come with the machine) is now the norm as the machine uses a unique sensor to achieve this.
With a sewing speed of up to 900 stitches per minute, efficiency in your work is guaranteed when you are working on big projects with this Juki sewing machine.
You can use it for crafting, home décor, and quilting, which allows you to achieve multiple functions with it.
PROS:
A wide variety of stitches and patterns for decorations
Thread winding made easy by the use of the bobbin winder
Bobbins can be prepared quickly
Needle threading is no longer manual but automatic
Efficient 900 stitches per minute
The machine is quiet and stable because of enhanced design
CONS:
The machine needs a lot of adjustments before sewing
#5. Juki TL-2000Qi Long-Arm Sewing & Quilting Machine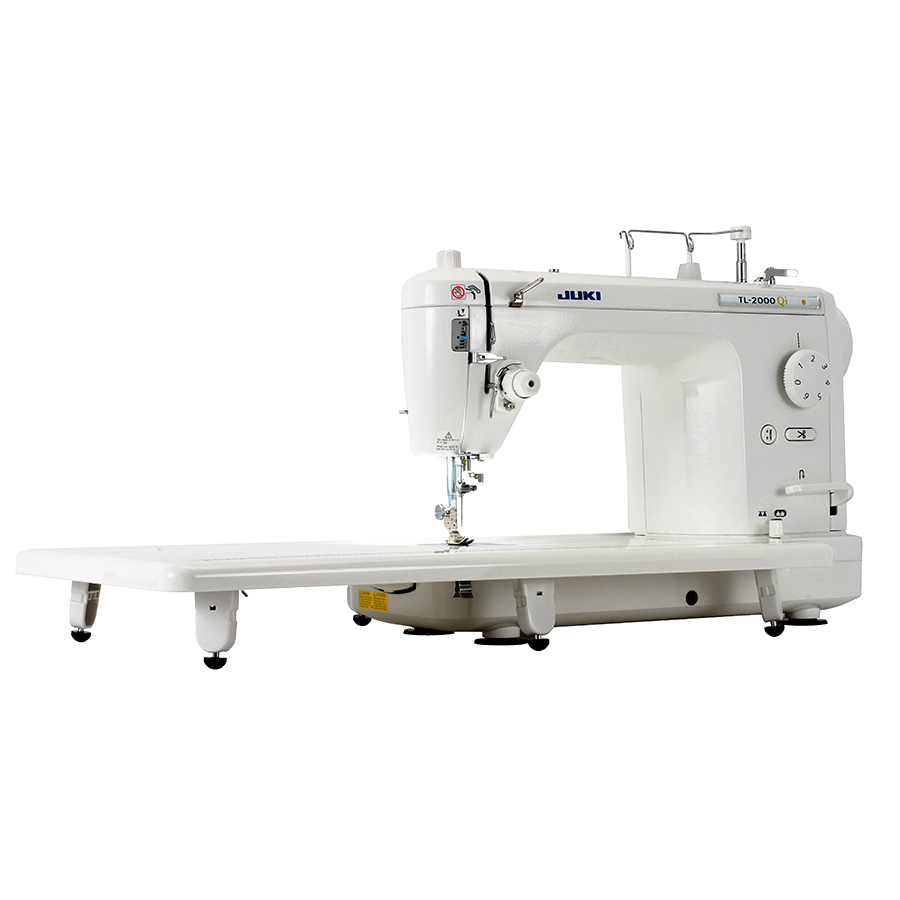 Features
The product comes with a 5-year warranty
Needle threading: automatic
Weight: 11.5 kgs
Bobbin winder: yes, automatic
If you need a machine that is good at producing straight stitches, this is an ideal one for you.
The 2000Qi Juki sewing machines come with a sewing table that is large, allowing you to work on projects with large materials.
The ergonomic LED lights are bright enough to help you illuminate your working area for more precision while minimizing strain on your eyes.
This is one of the best Juki sewing machines, as it features automated thread trimming and a mechanism for speed control; your sewing and quilting work won't be the same again.
Achieve a reliable feed into the machine by using a feed foot that is applicable to both light and heavy materials.
With a scale to assist you in tensioning your thread, tension can now be adjusted to be in tandem with the material used and the thread.
If you are working on basic sewing functions, you can enjoy using the foot pedal in your sewing work.
PROS:
Portable as it is lightweight
Enhanced durability with aluminum casting
Sturdy build for enhanced reliability
Low noise and vibration
CONS:
No variety with the use of straight stitch only
Fewer accessories come with the machine
Bobbin thread cannot be seen
Complicated for beginners
Juki tabletop sewing machine – Buying guide
It is vital to familiarize yourself with your work needs when planning to buy a sewing machine.
Have you wondered why some sewing work comes out nicely while others don't? Take also a look at our review of the basic sewing machine.
The answer lies in the quality of the sewing machine.
This article gives you comprehensive reviews of some good Juki sewing machines on the market.
Benefits of a good Juki home sewing machine
A good sewing machine will no doubt enhance the quality of your work by giving you better results.
The latest design technology comes incorporated in a good sewing machine that brings about creativity in your work. Let us tell you what is the best heavy duty sewing machine for home use. Access this link to find out.
Besides, a good sewing machine should be eco-friendly and user-friendly.
What to consider when buying a sewing machine
Buying a sewing machine can be a daunting task if you do not understand what you want. Take a look at our embroidery machine review here.
You need to consider the following:
Brand of the sewing machine: Juki sewing machines are a household name in the sewing arena and have won the hearts of many. It is therefore advisable to go for such a renowned brand with a proven track record.
User consideration: As you go about buying a sewing machine, it is crucial to understand the level of expertise the user has. Machines that are ideal for beginners may not work well with experienced users as they tend to have their preferences. Whichever the case, Juki sewing machines will provide you with a range of options for different levels of user expertise.
Storage and portability: The availability of space for storage and the ease of moving around with a sewing machine is a crucial consideration when shopping for one. If your projects will require a lot of mobility, go for a sewing machine that is not heavy and bulky. Feel free to check out also our best sewing machine for quilting articles which you might find interesting. On the other hand, if the project will be executed in a single place, you can opt for a machine that comes assembled with a table for ample working space.
Frequently Asked Questions
Is Juki a good sewing machine?
Our reviews show that Juki sewing machines are good and an ideal buy for your projects.
Who makes the Juki sewing machine?
Juki sewing machines are made by JUKI Corporation, which is domiciled in Tokyo, Japan.
The company has established its name as the best manufacturer for industrial and domestic sewing machines. You should also take a look at our Janome sewing machine reviews
What is the top machine for the money?
The best sewing machine for the money is the Juki TL-2010Q Long-Arm Quilting & Sewing Machine.
Is Juki made by Janome?
No, Juki is not made by Janome but by JUKI Corporation.
What is the best Juki sewing machine? 
The best Juki model is the Juki TL-2010Q Long-Arm Quilting & Sewing Machine.
Should I buy a Juki 2010?
A definite yes, it is a machine you will enjoy working with.
Conclusion
Sewing machines have revolutionized the garment, leather, and décor industry with the advent of new technology.
It is now easier to work on your sewing projects with passion because of the support of Juki sewing machines. Take a look at our rank for the best singer sewing machine.
I would go for a Juki machine because, as a brand, it gives value for money, has proven to be reliable, and it incorporates the latest technology in its products.
Our reviews show that you will not go wrong with the Juki TL-2010Q Long-Arm Quilting & Sewing Machine.
The Juki DDL-8700 will also serve you well with its impressive sewing speed.
To crown it all, the Juki HZL-F300 Exceed Series is also a reliable workhorse for your sewing needs.