As an Amazon Associate I earn from qualifying purchases.
Have you ever heard about the Husqvarna Viking machine for sewing?
This review will cover all you need to know about Husqvarna sewing machines.
Sewing is more than the art of making clothes, it's thrilling, productive, and worth every bit of the effort.
But you can only enjoy these benefits when you're using the right tools.
So, if you want to be successful in the field of sewing, then you need one of these qualities Husqvarna sewing machines.
Husqvarna sewing machines are high-ranking models among professional sewists and the top among other famous companies.
The Husqvarna Viking designer team comes up often with new technologies and innovations which make them each sewing machine so good.
Besides, Husqvarna produces various models to suit both experts and beginners.
Some of the Husqvarna Viking models exhibit trademark features like the deluxe stitch system, which helps you achieve excellent stitch results using different types of thread.
The Husqvarna Viking also comes with an exclusive SEWING ADVISOR, which quickly operates and applies settings for stitch options like stitch width/length, and presser foot pressure, to meet your needs.
Read on to learn more about the Husqvarna Viking line of sewing machines.
Top 6 Best Husqvarna Viking Machines 
Below is our Husqvarna Viking Sewing Machine Review, in which are the six best Husqvarna Viking machines that you can use for either sewing, embroidery, or quilting.
#1. Editor's choice: Husqvarna Viking Jade 35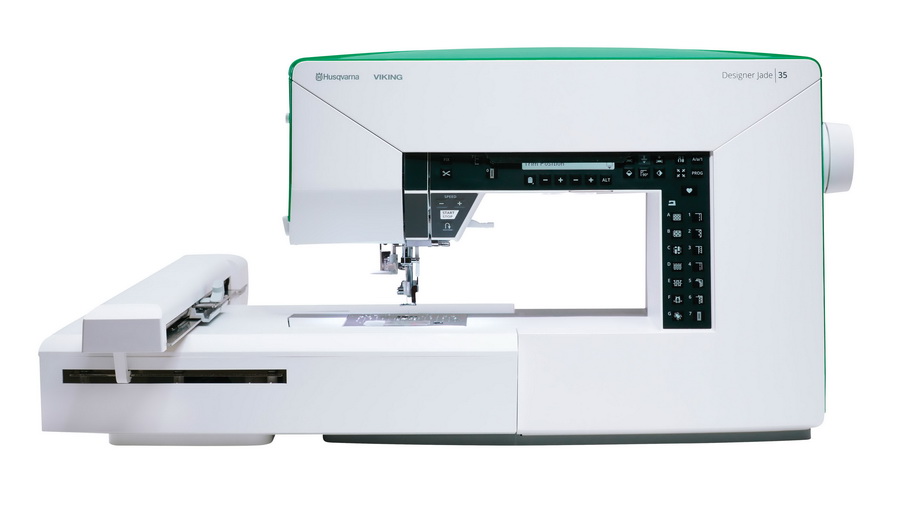 Features
Embroidery Area Dimensions: 9.5″ x 6″ inches
Product Dimensions: 18.2 L x 7.5 W x 12.4 H inches
Weight: 9 pounds
Built-in stitches: 120
Needle positions: 29
Fonts: 2
Worksurface: 200mm
Warranty: 20 years
Extras: Sewing Advisor feature, top thread sensor, one-step buttonholes, drop feet teeth, stitch programming, and needle stops up/down.
Others include start/stop function, and free motion with any stitch.
Overall Rating: 5 out of 5
The Jade 35 is a lightweight and compact yet durable Husqvarna Viking machine that you can carry and mount anywhere.
On top of that, the 200mm work surface helps you sew large quilts, including garments and household décor with ease.
The exclusive Sewing Advisor feature sets the best stitch length and width, and thread tension for you with pro advice on the screen.
The Husqvarna Viking Jade 35 machine offers faster results due to its embroidery feature; more than some embroidery machines in this category.
This machine comes with 70 embroidery designs, including PC software, to help you create more designs while the LED light illuminates the work area.
The embroidery feature includes one embroidery font in three different sizes, USB embroidery stick, design basting, embroidery edit, and corner check, among others.
With the built-in needle threader, threading the needle is hassle-free while the automatic thread cutter cuts the thread in a snap.
The essential accessories that come with this product are the jewel hoop (240 x 150) and various presser feet.
Other accessories include thread net, needles, spool cap, bobbins, USB embroidery stick, and many more.
PROS:
Lightweight
Performs well
Beautiful and sturdy
Easy to operate
CONS:
#2. Honorary mention: Husqvarna Viking Jade 20 Sewing Machine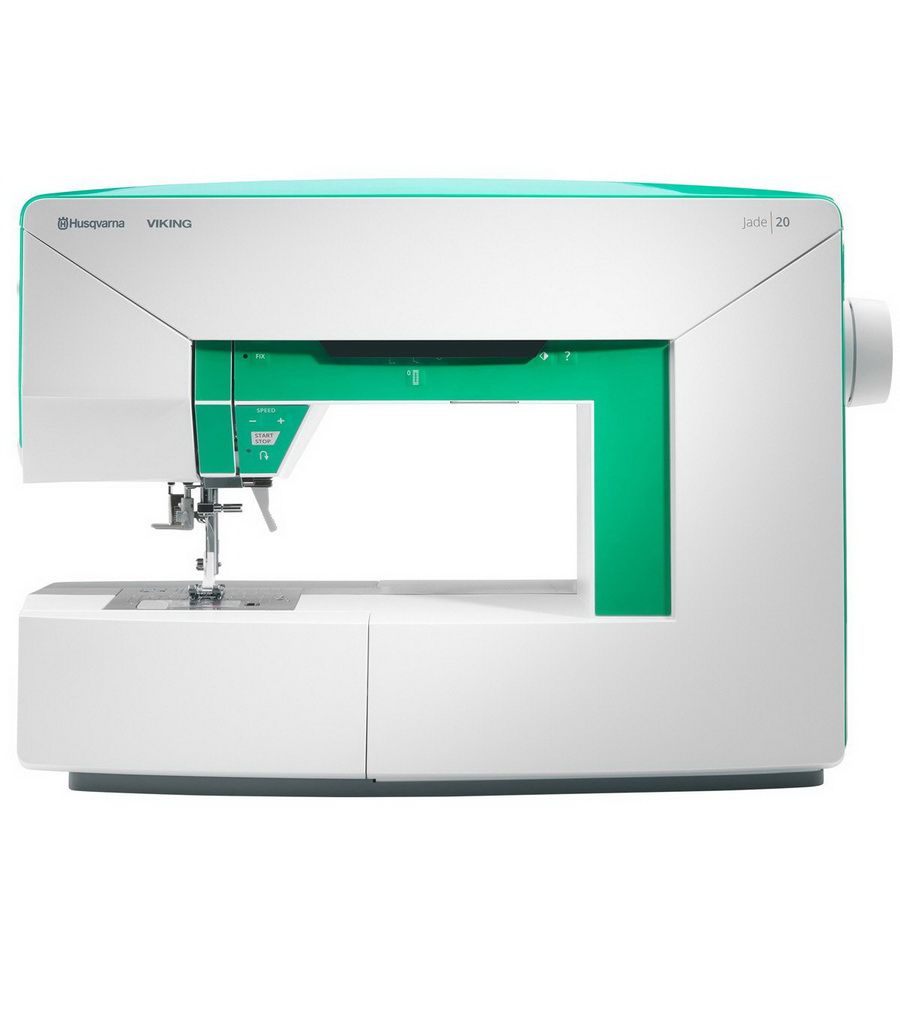 Features
Workspace: 200mm
Built-in stitches: 82
Needle positions: 29
Included presser feet: 7
Maximum stitch width: 7mm
Warranty: 20 years
Extras: Start/stop function, drop feed teeth, sewing guide, adjustable presser foot pressure, etc.
Overall Rating: 5.0 out of 5
With the Jade 20, you can take your sewing projects to new levels as this sewing machine is affordable and of high quality.
You can refer to the sewing guide for more references if there are any difficulties.
The machine has an ample workspace of 200mm that you can utilize and sew home decorations, quilts, or clothing with ease.
With the start/stop function, you can sew without using the foot control as the feature is perfect for decorative sewing, stitches, and much more.
The Husqvarna Viking designer equipped this model with more than 80 beautiful 7mm full stitches that you can use for quilting and decorative sewing.
One of the decent accessories that come with this model is the snap-on presser feet, including a one-step buttonhole.
The presser feet are utilities, decorative stitch, buttonhole, blind hem, zipper, edging, and self-adhesive glide plate.
Other accessories include thread net, power cord, needles, auxiliary spool pin, an edge guide, etc.
By pressing a button, you will be able to know the right presser foot for a particular stitch on the LED display.
PROS:
Quiet and easy to learn
Perfect for quilting
Smooth with amazing stitches
Easy to thread
Feature-rich
Great for beginner sewists
CONS:
Threading issues sometimes
#3. Husqvarna Viking H Class E20 Sewing Machine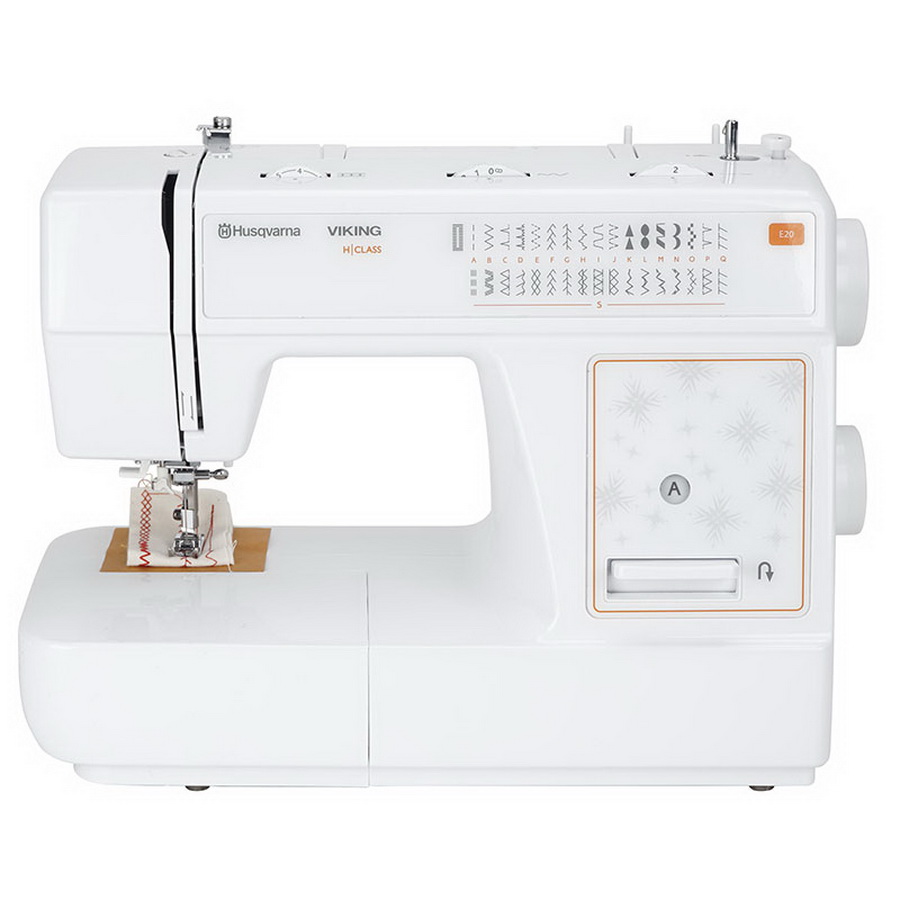 Features
Stitch count: 32
Maximum stitch width/length: 5mm/4mm
Weight: 7kg
Sewing speed: 600spm
No. of presser feet: 7
Warranty: 20 years
Extras: Built-in needle threader, softcover, drop feed, foot presser, snap-on presser foot, and many more.
Overall Rating: 5 out of 5.0
The Husqvarna Viking H Class E20 sewing machine is easy to use with plenty of features for sewers to take their sewing jobs to greater heights.
It is perfect for beginners and offers 32 stitch patterns, including adjustable length and width for a better sewing experience.
This model sews at 600 stitches in one minute; therefore, you can adjust the speed according to your specifications.
With the bobbin winder and auto needle threader, there is no need to stress yourself as it will be easy to complete jobs.
Many presser feet come with this product, some of which are a ¼" quilting foot, standard foot, and darning foot.
Others are buttonhole foot, blind hem foot, and free-motion.
Additionally, other accessories include L-screwdriver, bobbins, spool pin felt (2x), seam oil bottle, and ripper/brush.
You can create one-step buttonholes with this machine by pointing where to fix it, and it also works well with twin needles.
This Husqvarna sewing machine also comes with features like a sewing light, free arm for sewing cuffs, collars, and a foot controller.
PROS:
A beautiful, sturdy machine
Great price and easy to operate
It sews well and is reliable
Perfect for hemming clothing
Lightweight and easy to carry around
CONS:
No extension table
No drop-in bobbin and stop button
#4. Husqvarna Viking H Class E10 Sewing Machine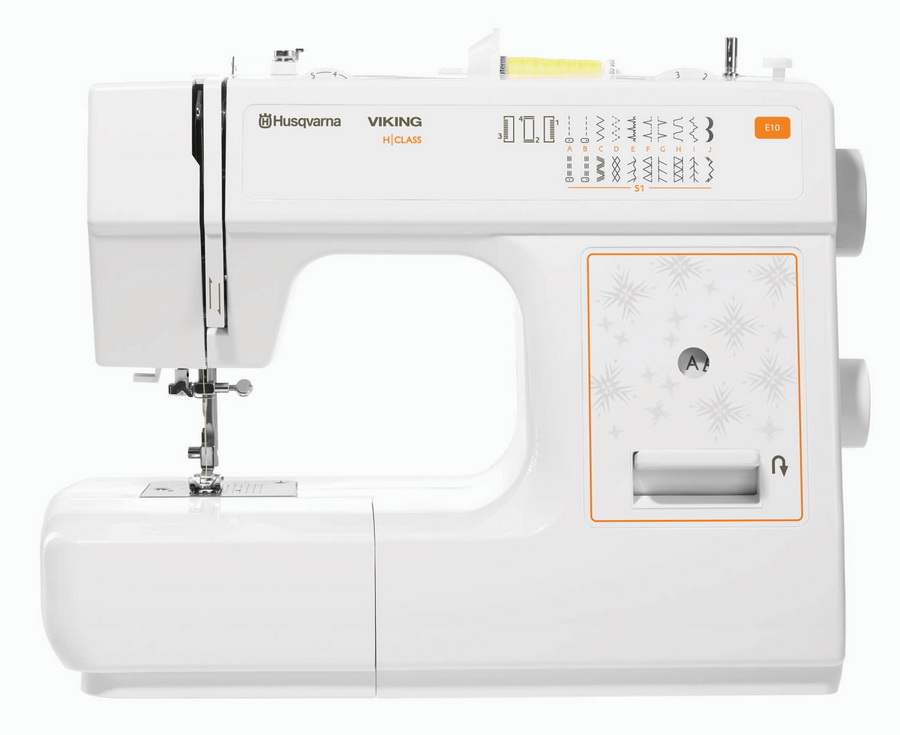 Features
Stitch count: 32
No. of presser feet: 7
Maximum stitch width/length: 5mm/4mm
No. of built-in stitches: 20
Weight: 6.3kg
Warranty: 20 years
Extras: Four-step buttonhole, free-motion capability, drop feed, softcover, and more.
Overall Rating: 5.0 out of 5
The Husqvarna Viking H-class E10 sewing machine is easy to use with many extras to make sewing less stressful.
The stitch selection lets you create clothes, home décor, and other items.
This Husqvarna Viking Designer machine is easy to thread and comes with a soft cover for protection.
This product comes with several presser feet, which are standard, satin stitch, zipper, buttonhole, and blind hem.
You can adjust the presser foot if the machine is holding the fabric too tightly using any of the different presser feet.
Additional accessories include an L-screwdriver, pack of needles, darning plate, bobbins, and much more.
PROS:
Sturdy and smooth machine
Easy to operate
Great small machine
Excellent value
CONS:
Does not stitch straight using the right-hand needle position
#5. Husqvarna Viking Emerald 118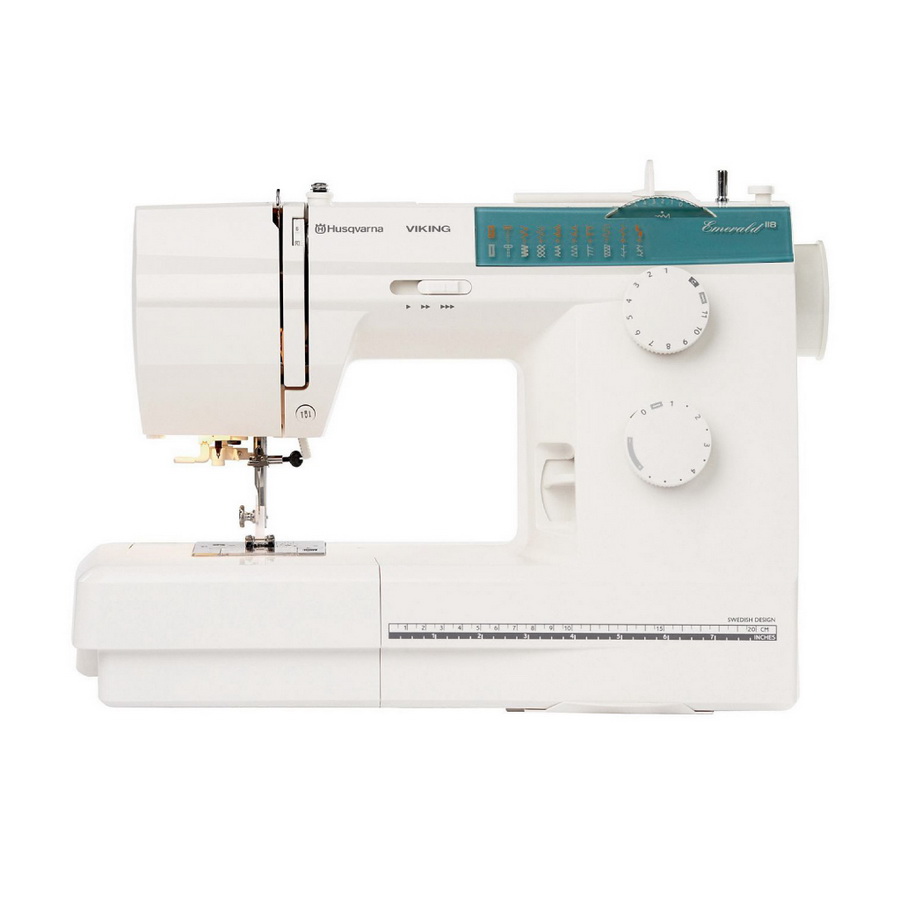 Features
Stitch count: 70
No. of presser feet: 8
Maximum stitch width/length: 5mm/4mm
Weight: 8kg
Warranty: 20 years
Extras: snap-on presser feet, electric speed control, needle stop up/down, thread cutter, and more.
Overall Rating: 4.5 out of 5
The Emerald 118 Husqvarna Viking sewing machine is perfect for all sewing types as you can sew lovely dresses and even curtains.
It is one of the best machines for beginners and is easy to operate.
Children can use the Emerald 118 due to the sensitive foot control and speed control, which is an advantage.
The different types of presser feet, especially the zip foot, makes it perfect for dressmaking as it can sew a variety of fabrics like wool to thick layers of denim.
It can create free-motion embroidery with the help of the feed dogs and also offers 19 stitch options.
The eight presser feet that come with this device are non-stick glide, buttonhole foot, blind hem foot, zipper, edging, automatic buttonholes, etc.
The extra accessories include self-adhesive glide plates, needles, a vertical spool pin, and much more.
However, this product has a speed limiter control to help you control speed while the automatic needle threader enables you to thread the needle with ease without straining your eyes.
With the drop-in bobbin, you can easily insert the bobbin while the clear cover helps you see when it needs replacement.
PROS:
A sturdy workhorse
Sews smoothly
comes with loads of features
good quality and quiet
CONS:
Intuitive buttonhole function
#6. Husqvarna Viking Emerald 116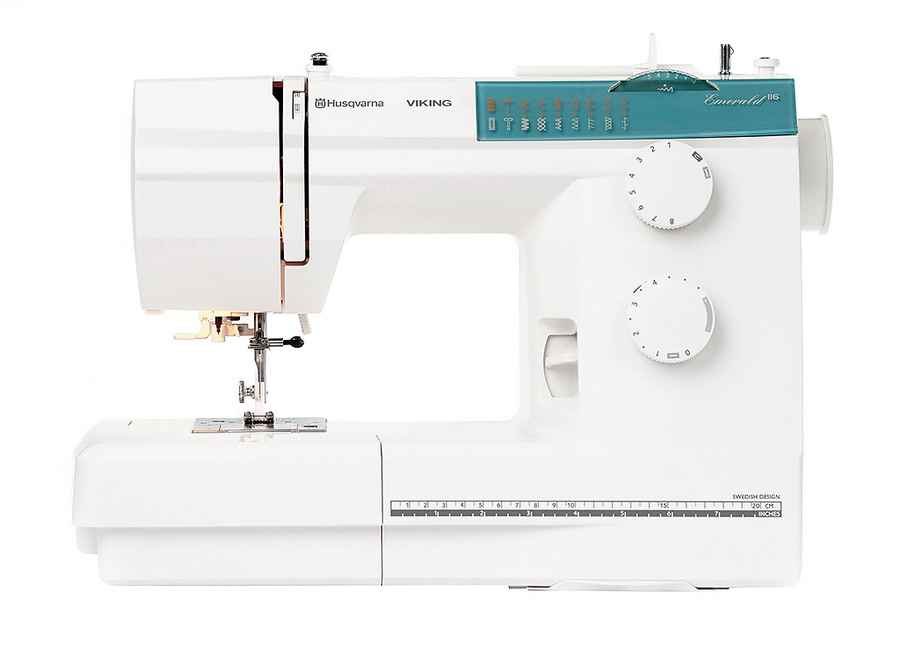 Features
Stitch count: 60
No. of presser feet: 8
Maximum stitch width/length: 5mm/4mm
Warranty: 20 years
Extras: Adjustable stitch length/width, thread cutter, rotary hook system, snap-on presser feet, needle threader, built-in handle, etc.
Overall Rating: 4.5 out of 5
Just like the Emerald 118, the Emerald 116 sewing machines are ideal for all sewing projects as you can sew cute dresses and even curtains.
You will appreciate the sewing guide reference chart that recommends the right presser foot, stitch length/width, presser foot pressure, and thread tension for various clothing and methods.
It offers utility, decorative, and stretch stitches, including a one-step buttonhole and adjustable stitch length/width.
The eight presser feet that come with this device are utility A & B, buttonhole foot C, and adjustable blind hem foot, etc.
With the needle threader, you don't need to stress yourself finding the hole, especially if you have poor sight.
The automatic thread cutter cuts the thread at a snap enabling you to sew with ease.
PROS:
Easy to understand user's guide
Brilliant sturdy machine
Good quality with plenty of stitch options
Easy threading and winding of bobbin
CONS:
Has no speed control
Cannot easily create quality buttonholes
Buying Guide
Everyone wants to be creative in fashion, and you can accomplish that with a quality sewing machine.
You need the type of machine that can handle different types of fabrics, especially satin and denim.
This section will help you to choose the one that will best help you reach your goals.
Things to look for in sewing machines
Below are the main things to look for when purchasing one of the Husqvarna Viking sewing models:
Automatic buttonholer
This feature helps you sew a button in one step without stopping to adjust the material or tamper with the dial.
With some sewing machines, you can insert the button into a slot for it to sew a buttonhole that fits.
Needle positions
With this feature, you can move the needle to any side or up/down position.
Above all, with the needle down, you can easily lift the pressure foot.
Needle threader
The needle threader pushes the thread through the eye of the needle and saves you the stress of straining your eyes.
Presser's feet
Additional presser feet are a considerable advantage as the multi-purpose foot enables you to sew zigzag stitches, though a zipper foot and buttonhole foot are also ideal.
Stitches
Check the machine's maximum stitch width/length before buying.
It will enable you to do straight, curved, and decorative stitches.
Tension adjustment
Determine how tight the thread is by using the tension adjustment.
A thread that is too tight will produce a fabric that puckers.
However, a loose thread results in loopy stitches.
Speed control
Speed control determines the rate at which the material feeds through the machine.
You will be able to sew at your tempo rather than pausing in-between jobs.
Extras
A good machine should come with extras to help you cut costs.
A free arm is ideal if you need to sew cuffs, sleeves, and difficult-to-reach areas.
Warranty
Most machines come with a long warranty, and you might even upgrade to a new one.
Husqvarna machines are known for offering sufficient warranties for all their products.
Portability
Portability is among the things you should look for when choosing your machine.
Some people carry their machines with them while traveling, or if they're changing locations.
There are several lightweight machines for you to buy that are still powerful and reliable.
Frequently Asked Questions
Is Viking a good sewing machine?
Viking machines are good and can do free-motion sewing with any stitch.
The exclusive sensor system and sewing advisor makes sewing fast and easy.
It has excellent stitch quality and is affordable.
Which brand of the sewing machine is best?
The Janome 7330 is the smartest machine, while the Brother CS6000i is the best machine for quilting.
Who makes the Viking sewing machine?
Viking sewing machines (VSM), formerly called Husqvarna sewing machines, is a company with its base in Huskvarna, Sweden.
It came into existence in 1872 and is popular for its elegant computerized products.
They operate under Husqvarna Viking and Pfaff brands.
How much is the Viking Epic?
The Viking Epic sewing and embroidery machine will be sold solely by Husqvarna Viking.
The retail price should be about $14,999.
Conclusion
Viking sewing machines are easier to handle and operate even for beginners.
For instance, if you need a sewing machine to carry along to classes, then the Viking Jade 35 is a perfect choice.
It is lightweight, easy to operate, and perfect for embroidery.
Furthermore, the Viking Emerald 118 is the perfect machine for beginners and children.
It is feature-rich and sews perfectly.
Lastly, for someone that needs an affordable but high-quality sewing machine, the Viking Jade 35 sewing machine is an option.
It is smooth and has lovely stitches with plenty of features.
You won't go wrong with any of these sewing machines by Husqvarna Viking Sewing.
Amazon and the Amazon logo are trademarks of Amazon.com, Inc, or its affiliates.