Do you hate struggling with home décor and chain stitching at home?
Doing home décor has come a long way, given the technology used nowadays.
Technology has made it possible to get the best results for embroidery designs with efficiency compared to earlier times without sewing machines.
If you prefer to do your home décor, technology has brought about better and faster sewing machines that are still user friendly. These sewing machines will guarantee you the best finish on your projects that include chain stitching designs.
Selecting the best chain stitch machine can be a daunting task because of the many brands of sewing machines on the market.
This article brings you the three best chain stitch embroidery machines currently available that will make your embroidery and sewing work unique and pleasurable, as well as giving you the best results.
The cumbersome process will be a thing of the past with the right chain stitch machine.
Read on to make an informed choice by selecting the leading chain stitch embroidery machine on the market.
Top List:
#1. Editor's Choice: Juki MCS- 1500 Cover and Chain Stitch Machine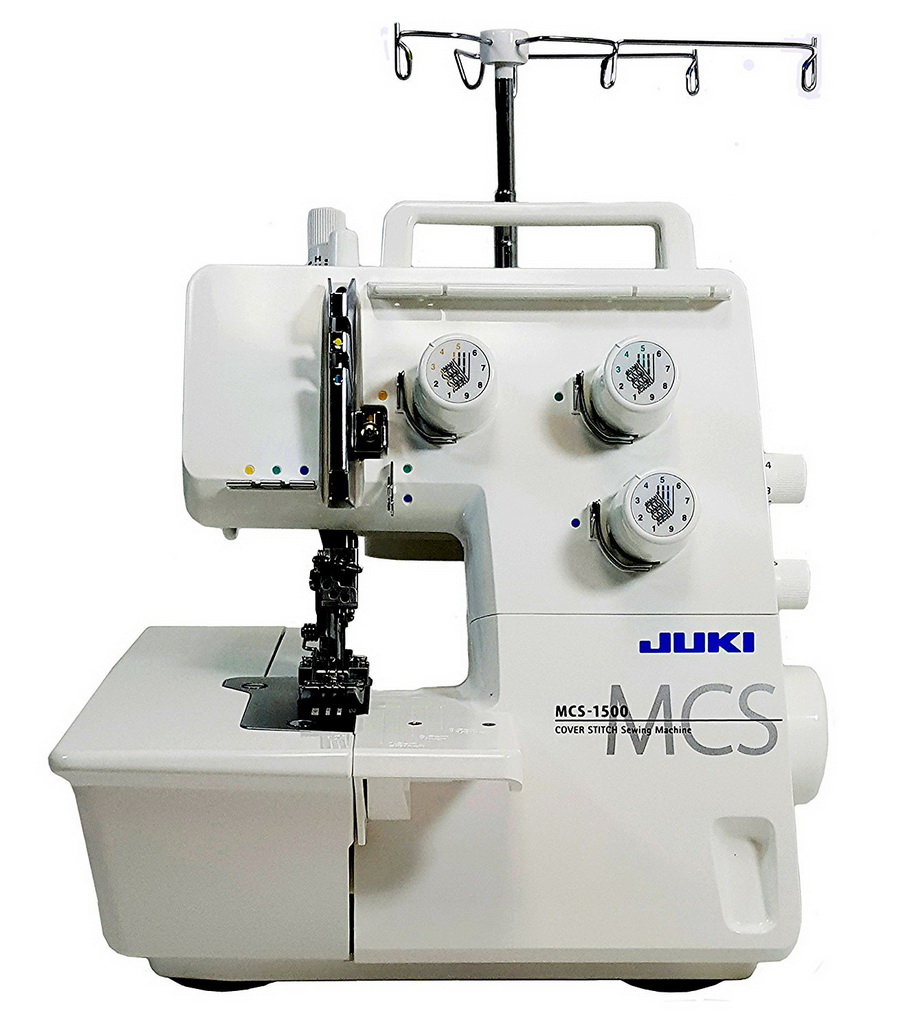 Features
Its differential feed is adjustable.
It has a simple looper threading.
Product warranty: 5-year limited warranty
Overall rating: 5 out of 5
The Juki MCS- 1500 sewing machine comes with a differential feed adjustable for neat finishes on your sewing work and décor that also applies to stretch fabrics.
This 3 needle chain stitch machine has been made with user-friendly attributes as threading loopers is now easy by merely pressing a button.
To aid your sewing and give you a pleasurable experience, the Juki MCS -1500 embroidery machine's extension plate comes engraved with guiding lines for the best chain seams.
You can now work on any fabric type, thanks to the ability to adjust the pressure of the presser foot on this chain sewing machine.
The presser foot also comes with a guide that is a standard accessory fitted on the left and right-hand side.
You no longer need to worry about cutting exterior thread on your fabric; this sewing machine comes with a thread cutter mounted on the exterior.
The Juki MCS – 1500 sewing machine uses three needles that allow you to do either four or three cover stitch designs, making the finishing on your fabric neat.
With the differential feed on the Juki MCS -1500 machine, you no longer need to wave in knits.
Additionally, this chain stitch machine has an impressive sewing speed that allows you to stitch quickly, with 1,350 stitches in 60 seconds.
PROS:
Light and easy machine to carry around
Comes with optional accessories
Options for sewing mats
Good chain stitch options
Adjustable press foot
CONS:
Stitch length could be better than current 1-4 mm
#2. Honorary mention: Brother 2340CV Cover and Chain Stitch Machine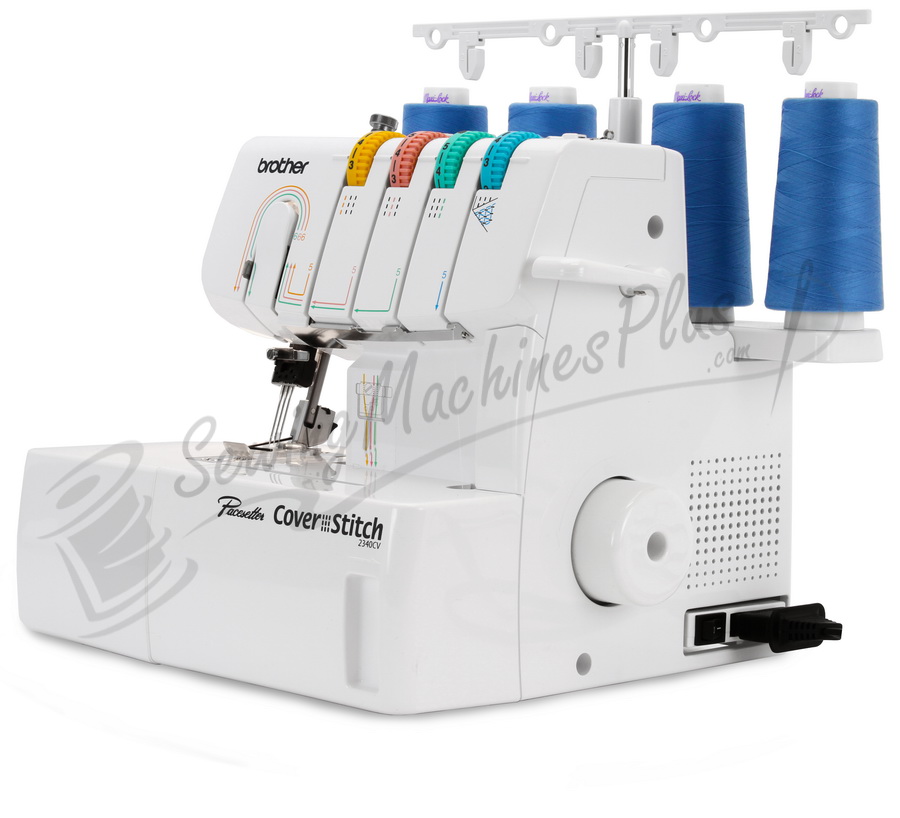 Features
Multiple stitch configurations
Chain stitch ability
Decorative stitch capable
The machine comes with a limited product warranty of 25 years.
Overall rating: 4.9 out of 5
Sewing work has now been made easier with the Brother 2340CV sewing machine to create multiple cover stitch designs.
Because of its advanced technology, this Brother sewing machine allows you to chain stitch with ease on various fabrics regardless of the weight and type and still get the best results.
With this machine, you can easily do decorative stitch designs on your fabric by creating special effects using different thread colors with the lower loop.
If you would love to create a wide cover stitch, this is the ideal sewing machine for you since it allows for up to 6mm with two needles perfect for hems, decorative effects, and topstitch applications.
This is one of the machines that allows you to work effortlessly on sportswear with the tri-cover stitch option using three needles and four threads for hems, decorations and create elastic and durable seams.
With this machine, you'll enjoy working on delicate fabrics with a 3mm narrow cover stitch that can be used for hems and topstitch designs without damaging the fabric.
Incorporate creativity in your sewing with the advanced technology in this sewing machine that comes with threading guides, adjustments for dials, and a presser foot.
The sewing machine comes with a set of needles, a net of threads, a spooling mat, tweezers, a brush for cleaning, a wrench, and an accessory bag. One of the best accessory packs available!
PROS:
Works on any type of fabric
Easy to do looper threading
Easy to lay in threads
Easy machine to carry around
CONS:
No extension covers for a threading guide
#3. Reliable 4900SC Single Needle Double Chain Stitch Machine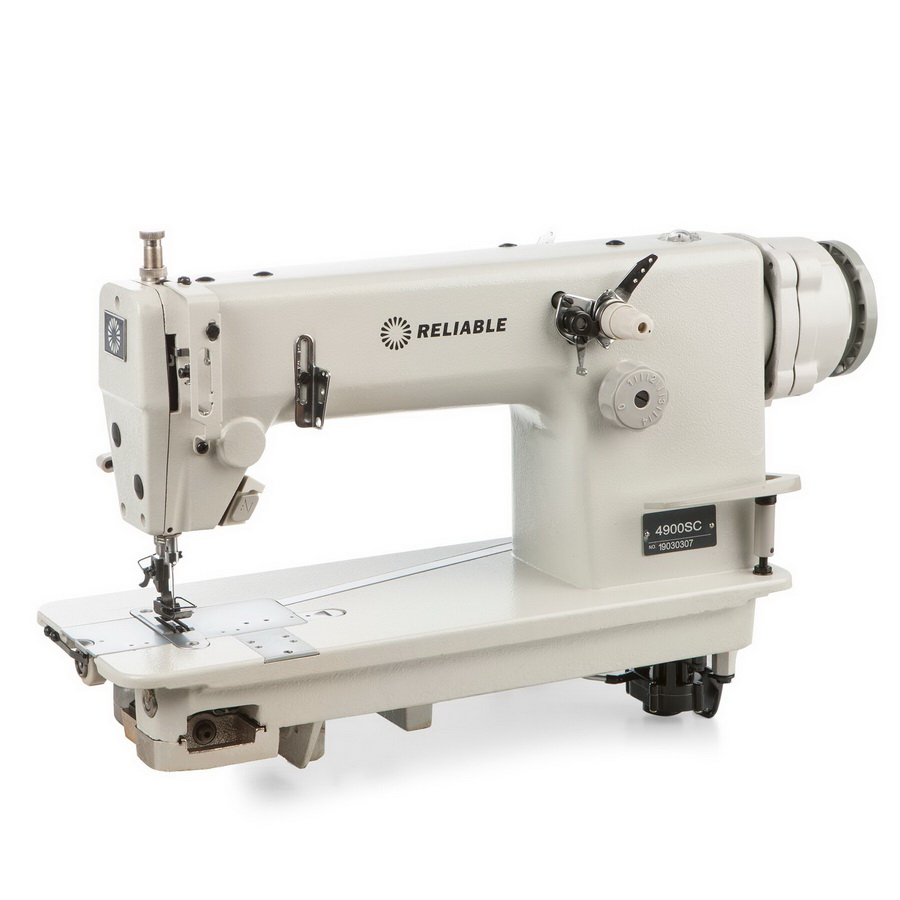 Features
One-year product warranty on the machine
It has a stitch lever that is condensed.
Regulator for stitch dial: yes
Stitch regulator: yes
Overall rating: 4.8 out of 5
Transform your sewing into a smooth and quiet experience thanks to the powerful 4900SC drive motor built in the machine and uses the latest technology.
I would buy the machine if I wanted to have a better view of my looper's threading.
One of the best features is that you can now easily remove your fabric from the machine after sewing, courtesy of a release mechanism built in the 4900SC sewing machine.
It is now easy to work on your fabric since visibility has been enhanced and glare reduced, courtesy of the LEDs built in the sewing machine.
When you buy the sewing machine, it comes with the best table/stand, made of plywood and steel for durability, which is not common with many sewing machines.
You no longer need to worry about the machine's functioning condition in the machine since it has a window above its head for monitoring.
PROS:
Automatic lubrication
A stand/table is a standard package
Fast chain stitch sewing speed of 5000 RPM, hence efficient
CONS:
Not ideal for heavy fabric
The machine is not easy to carry around
Chain stitch sewing machine – Buying Guide
If you plan to buy chain stitch sewing machines, there are several vital factors to keep in mind before selecting the machine for you to ensure you get a value-for-money purchase. You'll surely find interesting our article about coverstitch sewing machine. Discover it now!
Benefits
A chain stitch machine is ideal for home and commercial use for décor and other fabric related works requiring chain stitch designs.
The machine allows you to be efficient, work on different fabrics, and blend in creativity and professional chain stitch work.
Features to look out for
The features of a chain stitch machine will guide you in your ideal selection to match your needs. It would help if you looked out for the following in the machine you want:
Speed
If you are looking for a chain stitch machine for commercial use, go for one of the chain stitch sewing machines with a high speed for efficiency in your work. The machine needs to be reliable and robust.
Product warranty
Consider purchasing one of the chain stitch sewing machines with an extended warranty over other machines with a shorter period. The machine warranty will cushion you from any repair costs arising within the warranty period.
Number of inbuilt needles
Embroidery and chain stitch work will call for a machine with several inbuilt needles to carry out decorative chain stitch designs with ease.
You will need different needles suitable for different fabric types, ranging from fine to hard. Ensure the machine you are looking at can deal with the type of project you want to do.
Frequently Asked Questions
How does a chain stitch machine work?
The machine works by rotating its motor to be in sync with the needle's movement, which pulls thread into a piece of fabric in loops to create a chain stitch.
What is a single needle chain stitch machine?
The machine is for sewing and doing chain stitch designs that use one needle to create looped stitches, forming a chain pattern.
What is the difference between a lock stitch and chain stitch?
A lock stitch has two thread sets (needle and bobbin thread), while a chain stitch has a single thread that interlaces and interlopes for binding.
Does a chain stitch stretch?
Yes, a chain stitch machine does stretch when it is appropriately secured, and the chain stitch still retains its robust quality.
Conclusion
Transforming your sewing and experience can be achieved using the three chain stitch machines.
Assess your needs and keenly follow the buyer's guide to achieve value for money in purchasing any of these sewing machines.
Currently, the Juki MCS- 1500 sewing machine is your best bet on the market as the machine offers a combination of speed and multiple needles, as well as an adjustable presser foot.