Want to enjoy sewing anytime, anywhere, at your convenience?
Then you need a portable sewing machine.
Most companies have come up with portable sewing machines that offer the same features as the larger ones, and Singer is one of them and one of the most popular and well-known sewing machine companies in the world.
The sewing machines Singer manufacture are well-known for their high-quality, especially the portable sewing machines.
Singer is the manufacturer of the world's first spiral machine, as well as the electronic and embroidery machine.
Besides, many sewists prefer Singer sewing machines because they always come with lots of features and additional accessories.
This company came up with the world's first sewing assistant app for people to learn and fix their mistakes.
They offer durable sewing machines with long years of warranty.
Now let's discuss the five portable Singer sewing machines available on Sewing Machines Plus and Amazon in case you want to purchase one of them.
Top 5 Best Singer Sewing Machine
This review will analyze the portable Singer machines regarding their feedback, functionalities, and features.
The buying guide features the benefits of Singer portable sewing machines and what to look for when buying.
Continue reading as we go into the details!
#1. Editor's Choice: Singer Prelude 8280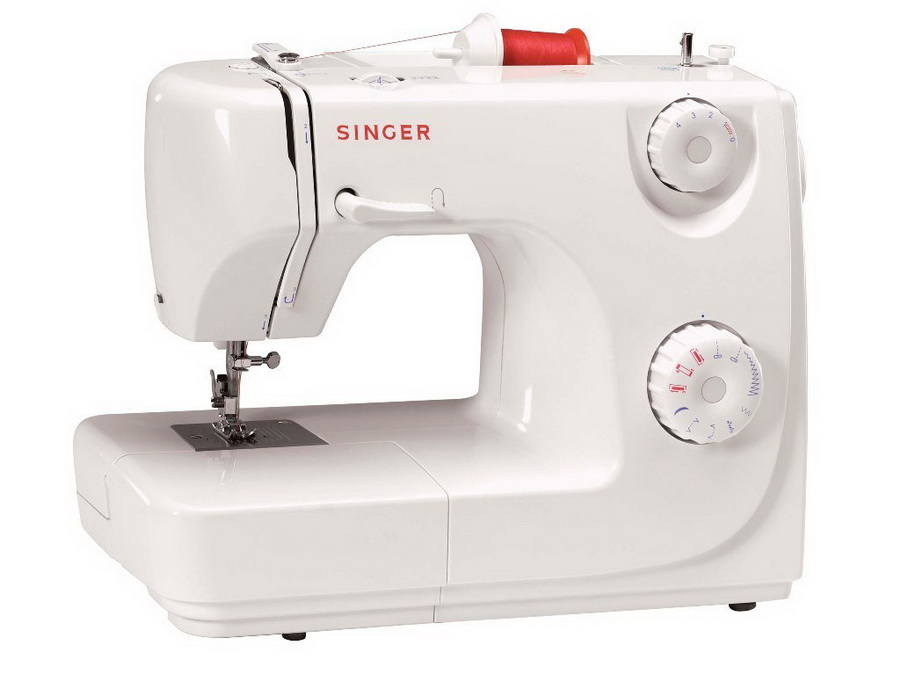 Features
Number of built-in stitches: 7
Needle positions: 3
Weight: 13.01 pounds
Overall Rating: 4.0 out of 5
The Singer Prelude is a primary machine with loads of features that include seven built-in stitches, an automatic four-step buttonhole, and four presser feet.
A free arm comes with this machine for sewing cuffs and sleeves.
Additional features include a carrying handle, automatic tension, and built-in-accessory storage.
This machine has a lot of accessories that come with it, such as general-purpose foot, buttonhole option, button sewing foot, and zipper foot.
Other accessories are a screwdriver, stitch guide, spool caps, top drop-in bobbin, and many more.
With the touch of a button, you can fasten and secure your stitches using the auto-tension lock function.
The white LED light brightens for you to view your work clearly while there is a bulb that lasts up to about 100,000 hours as long as the machine is still running.
You will appreciate the needle bar that detaches as you're winding the bobbin system.
The Singer Prelude has a 25-year limited warranty on the machine head, 2 years on the motor and electronic parts, and 90 days on attachments.
PROS:
Simple but great
Great price and fast shipping
Scissors cut nicely
Heavy-duty metal frame
Parallel thread delivery
CONS:
#2. Honorary Mention: Singer c240 Sewing Machine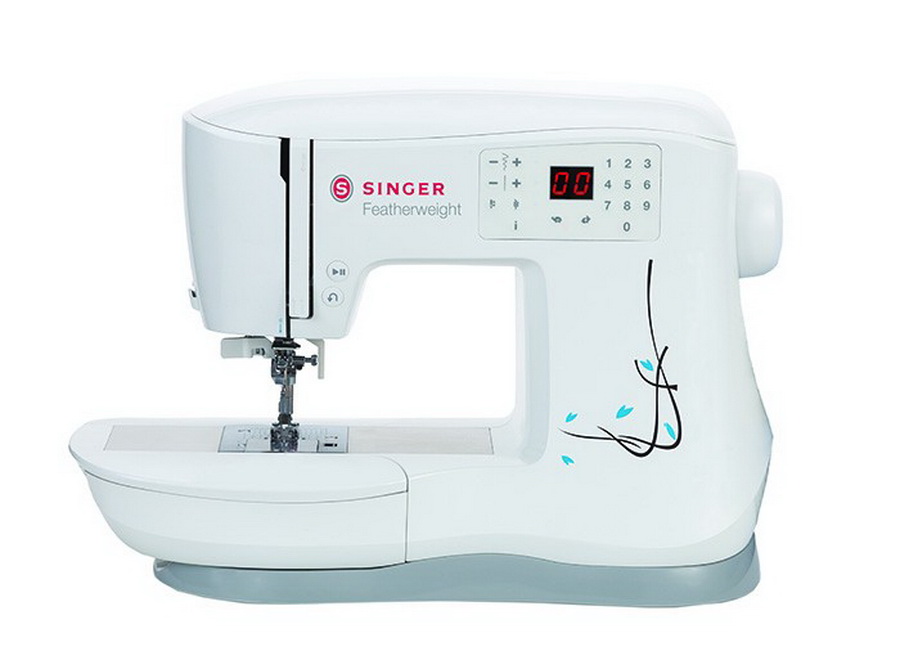 Features
Product Dimensions: 17.8 x 8.3 x 12.1 inches
Weight: 14.2 pounds
Needle positions: 29
Built-in-stitches: 70
Overall Rating: 4.0 out of 5
This is a new Singer c240 compact sewing machine with an IEF system that is ideal for sewing in a small space or taking it to sewing classes.
You will be able to sew any material of different thicknesses without the fabrics matching the end of the seam by allowing you to sew with ease.
The Singer c240 features a built-in threading function, adjustable thread tension, foot control tap function, drop feed, free arm, and a lot more.
There are so many accessories that come with this machine, which include a pack of needles, bobbins, screwdriver, spool caps, seam ripper, buttonhole tool, and a lot more.
This machine is durable due to the heavy-duty metal frame and the stainless steel bedplate that also ensures hitch-free sewing.
You can effortlessly press the displayed buttons on the machine's front panel and select your stitches as any stitch number you choose shows on the LED screen.
Furthermore, with the built-in one-step buttonhole function, you will be able to sew wonderfully fitted buttonholes for your buttons.
With the adjustable width and length of stitches, you can adjust and design your stitches while the two LED lights brighten the sewing area.
The top drop-in bobbin allows you to see and thread the bobbin easily because of the transparent clear view cover.
PROS:
Great even feed system
The integrated feed system works very well
Perfect for taking to sewing classes
Has loads of features and accessories
CONS:
#3. Singer 1304 Start Sewing Machine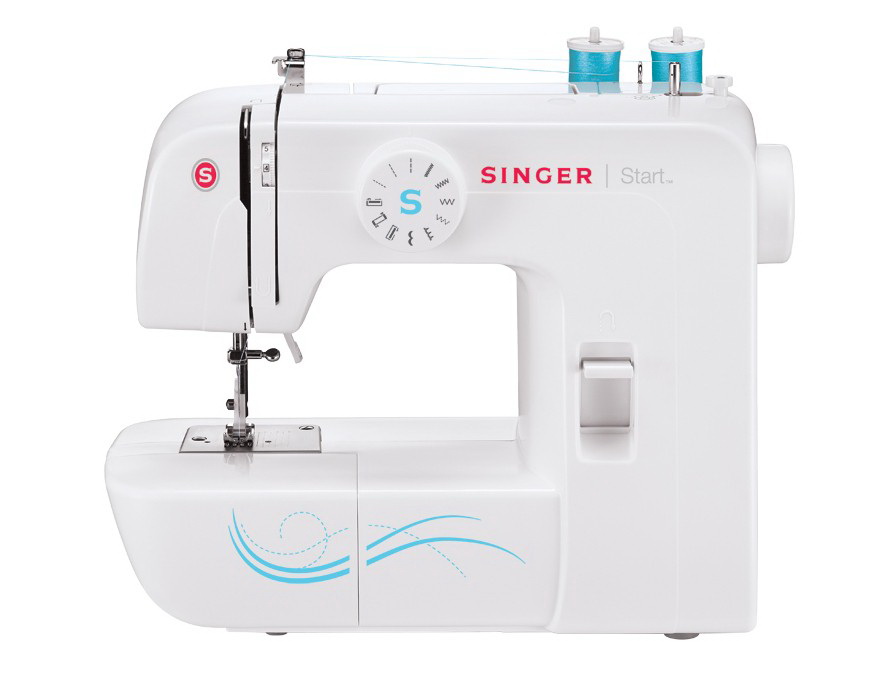 Features
Number of built-in-stitches: 6
Speed: 300-400 stitches per minute
Weight: 11.5 pounds
Dimensions: 13 x 7 x 11.5 inches
Buttonholes: 4-step
Number of decorative stitches: 1
Warranty: 25 years
The Singer Start 1304 Portable is good for beginners and boasts plenty of features that you can use to improve your creativity.
It has six built-in-stitches ranging from straight, satin, 4-step buttonhole, scallop, zigzag, and blind hem for you to select easily by a turn of the dial to control stitches.
There's no need to preset the stitch length and width as this machine automatically sets it making it simple to sew.
The heavy-duty frame firmly holds the compartment, making you enjoy skip-free sewing and the machine is also durable.
The removable free arm is a feature that most machines lack, but the Singer 1304 features it for you to sew cuffs, pant hems, and other hard-to-access areas.
With the extra-high presser foot lifter, sewing multiple layers of huge fabrics is a breeze while the LED light illuminates the sewing area for you to see your projects.
This machine offers a secure threading system that shows on the device for someone to follow and get ready for work.
An added feature is the automatic tension control that provides stable stitch quality without worrying about the kind of material you're using.
This machine is suitable for a beginner and pros as well, as they will be able to use the machine for more complex projects.
PROS:
Bright LED lighting
Lightweight
Easy-to-use
Suitable for beginners and experts
Highly durable
Ample stitch speed
CONS:
#4. Singer 3333 Fashion Mate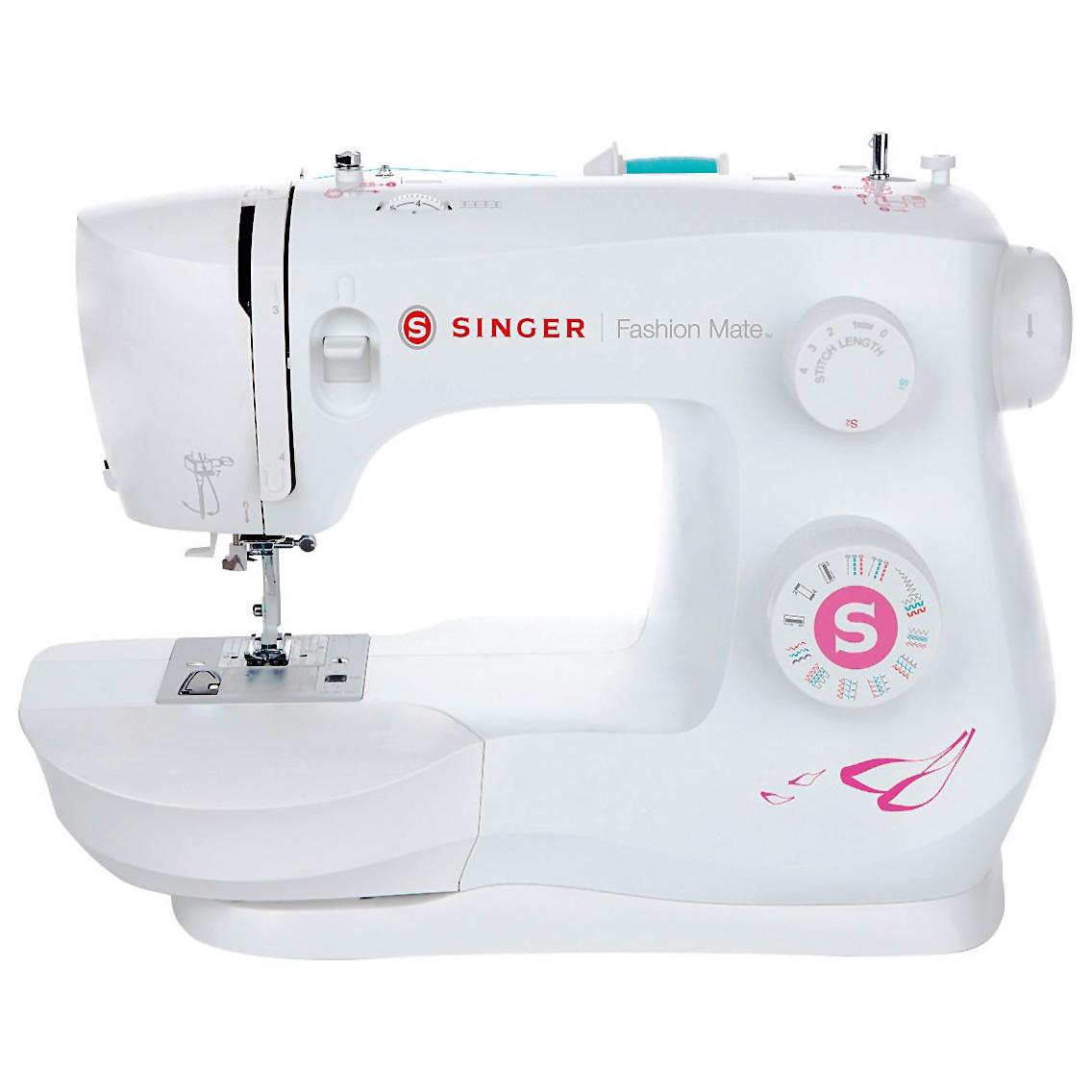 Features
Product Dimensions: 16.4 x 7.4 x 13 inches
Weight: 12.57 pounds
Number of stitches: 23
Stitch count: 23
Maximum stitch length: 4mm
Included presser feet: 4
Warranty: 25 years
Overall Rating: 4.3 out of 5
The Singer Fashion Mate 3333 is a simple machine with a smooth and modern design.
The Singer app and the owner's class videos help you whenever you're in need.
This machine comes with 23 stitches, including stretch stitches, decorative, basic stitches, and 4-step buttonhole stitches for professional results.
With the turn of a dial, you can select your stitches on the selector dial, and also customize your stitches with the adjustable stitch length.
With the top drop-in bobbin, it's an easy threading system, while the LED brightens the sewing surface for you to see clearly.
This machine also offers a free-arm for you to sew cuffs, pant hems, collars, and inaccessible areas.
No need to get extra storage because you can easily store your accessories using the removable storage compartment.
The free accessories that come with the machine are buttonhole foot, zipper foot, general foot, button sewing foot, and many more.
The built-in needle threader is an advantage as the machine threads easily, so you can sew quickly.
PROS:
Easy to order online
Easy to use
Sews very well
Lightweight and easy to move
Ergonomic design
CONS:
Bobbin skips
No automatic thread cutter
#5. Singer 5400 Sew Mate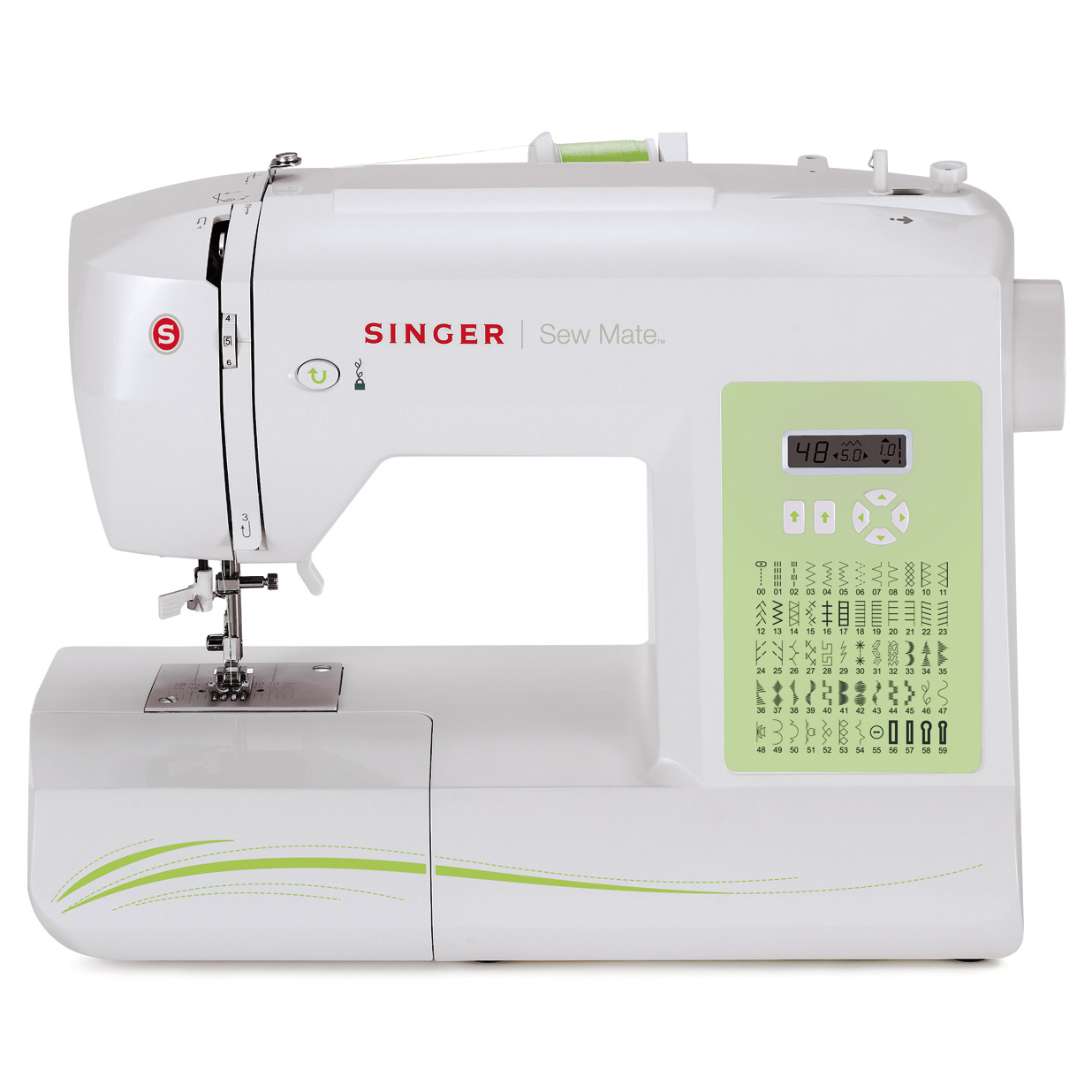 Features
Needle positions: 13
Width of stitches: 6.5mm
Number of built-in stitches: 60
Product Dimensions: 16.5" x 7.75" x 13"
Weight: 13.81lbs
Speed: 750 stitches-per-minute
Warranty: 25-years
Overall Rating: 4.2 out of 5
The Singer 5400 Sew Mate electronic machine has loads of features to make sewing fun and enjoyable.
Additional features include automatic reverse, auto presser foot pressure, extra-high presser foot lifter, heavy-duty metal frame, free arm, extension table, and a lot more.
This machine's heavy-duty metal frame provides stability while sewing making you sew without difficulty.
With the easy threader system, threading the machine is simple and hassle-free.
The auto stitch width and length helps in adjusting your stitches while the mechanical tension balances your stitches irrespective of the fabric type.
Using the stitch button, simply select the stitches you need for your projects.
However, online and social media support is available at the Singer official website in case you have any difficulties using this product.
This machine offers 60 built-in stitches and four styles of automatic 1-step buttonholes for well-fitted buttonholes.
They also come with accessories like zipper foot, darning plate, button foot, and seam ripper, among others.
PROS:
Good machine
Accurate and well-built
Easy to use
Plenty of stitching options
CONS:
Experiences malfunctioning stitches sometimes
Singer sewing machine reviews – Buying Guide
Sometimes you might have a tear in your clothing that requires patching regardless of whether you're a beginner.
A portable machine will save you the stress of going all the way to a seamstress shop to get it done.
This buying guide will provide you with vital information so that you will choose your machine wisely.
Why choose a Singer machine
Most sewists prefer Singer products because they're easy to use and easy to carry around.
The product quality and efficiency make them a sought after brand.
That is why it is among the most thriving brands out there as most sewists value the brand.
Advantages of owning singer sewing machines – reviews
As the title highlights, they are exceedingly lightweight, making it easy to carry the machine.
They're very efficient, even with a light body frame.
Offers top-notch quality stitches
Durable, reliable, and lasts longer
They don't consume space and are easy to operate.
Long warranty and online support to customers
Factors to consider when choosing the best singer machine
If you want to purchase a mini sewing machine Singer manufactures, there are some things that you must take into consideration.
To be on the safe side and also get value for your money, below are the things you should consider to get a great machine:
Singer sewing machine review built-in stitches
Built-in stitches are diverse patterns that you can easily adjust for width and length.
Singer portable sewing machines have built-in stitches, including an overlocking stitch to sew through various layer thicknesses and stretch stitches.
Singer sewing machine portable sewing speed
If you have a faster sewing machine, then you'll be able to finish projects in no time.
The speed of stitching helps complete jobs within a short period.
Therefore a slow machine takes a lot of time to complete projects and makes you tire quickly.
Best singer sewing machines auto threading
The auto needle threader is one of the features that come with Singer portable sewing machines.
The auto needle threader is perfect for people with poor eye-sight or shaky hands.
Singer sewing machine comparison – Free arm
The free arm is a feature that you must not overlook considering the reason why you need a sewing machine.
The free arm of the machine helps sew cuffs, collars, and also offers storage space.
Top rated singer sewing machines dimensions
Ensure that you buy a sewing machine that will fit your space perfectly.
Check the length and height as well in case you want to travel with it.
Compare singer sewing machines – Frequently Asked Questions
What is the best portable machine?
The best portable sewing machine Singer produces is the 1304 machine.
It comes with lots of features and is ideal for beginners.
How much is my Singer sewing machine worth?
Some Singer sewing machines are worth a lot and others are less expensive.
It all depends on the quality, age, and condition.
However, to get an accurate value for your Singer machine, check online or in stores that sell sewing machines.
Are handheld sewing machines any good?
Handheld sewing machines are suitable for sewing some materials, and they're very portable.
Generally, they're perfect for mending fabrics.
Newest singer sewing machine – Conclusion
Singer portable sewing machines offer a wide range of benefits.
Some machines perform way better than others and have a higher ranking by customers.
The overall best Singer portable sewing machine for your projects is the 1304 machine, as it works speedily delivering exceptional performance.
Furthermore, if you need a sewing machine with lots of features for your sewing jobs, then the Singer 5400 Sew Mate is the ideal tool for you.
The machine offers 60 built-in stitches and 750 stitches per minute.
Finally, if you need a simple but great portable machine to complete tasks with ease, then go for the Singer Prelude 8280 sewing machine.
It's highly durable, thanks to its heavyweight metal frame.